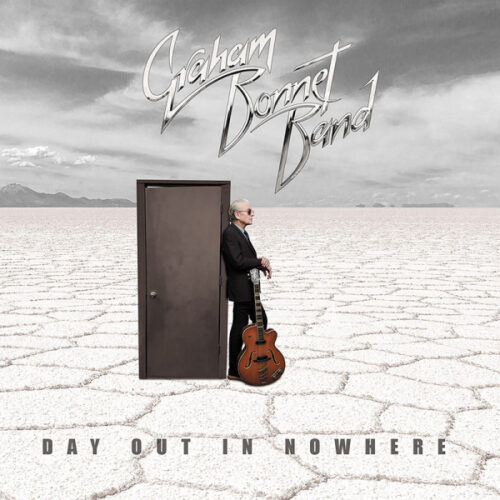 Review | Graham Bonnet Band – Day Out In Nowhere
Frontiers Music srl
Graham Bonnet still sounds like a young God. Where lots of people his age now enjoy their retirement the singer releases his third studio-album with his Graham Bonnet Band. With Beth-Ami Heavenstone on bass and Brazilian guitar slinger Conrado Pesinato who together with Beth-Ami took care of the crispy production. Shane Galaas is the force behind the drums while Alessandro Bertoni coloured in the keyboards. And there are a bunch of guests active on the album like monster guitarist Roy Z (Driver), Deep Purple's Don Airey, guitarist Jeff Loomis, drummer John Tempesta, guitarist Mike Tempesta plus a few more.
ALCATRAZZ
Last year Graham's former band Alcatrazz released the album 'V' with new vocalist Doogie White and Graham (who was basically kicked out of the band he founded so many years ago) was the perfect gentleman about it. Publicly he never said anything negative about that situation. When I reviewed 'V' for this magazine I expressed my surprise of Graham not being longer at the helm. Some Alcatrazz members must have seen that review as they left a comment that was very negative towards Graham. It boiled down to the fact that Graham was not really interested in the band and they had to kick his ass into gear to get him to sing or to do some work. Graham being at the helm was according to his former band absolute nonsense. Not very respectful towards a man who has been active in music since the sixties.
NEW ALBUM
On his new album Graham Bonnet shows once again that he is still up there. He has not missed a beat and his voice is in great shape. His power and his reach are fully intact and on the last track ,,Suzy'', he shows a remarkable change of style, singing very sensitive, showing that he is not just a master of the high regions. The music is as we are used to from earlier albums and also his Alcatrazz time 'very busy and intense'.
I believe I mentioned before in earlier reviews of Graham Bonnet Band albums how important guitarist Conrado Pesinato is for the total sound. The man is just a brilliant guitarist but then if you look at the career of Graham Bonnet it becomes obvious that he always had a 'nose' for working with supreme guitarists like for instance Ritchie Blackmore, Bob Kulick, Michael Schenker, Steve Vai, Yngwie Malmsteen, Joe Stump and since a while Conrado Pesinato.
'Day Out In Nowhere' may not cross musical borders that you are not used to from this band and Alcatrazz but the songs are very good at times, the execution mostly breathtaking and the album sounds crispy and very direct. And pay also some attention to the lyrics that Graham has written like for instance the words he wrote for the song ,,Uncle John'', a true story about a very serious topic. He might be 74 years old, our Graham, but in his case age is just a number.
Release date: 6 May 2022