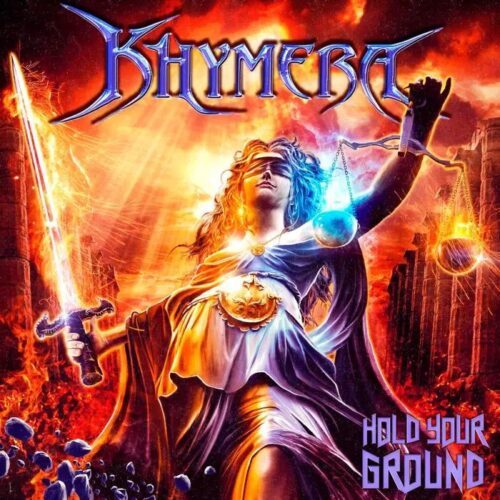 Review | Khymera – Hold Your Ground
Frontiers Music srl
Although Khymera started out as a project around singer Joe Lynn Turner and Daniele Liverani in 2005 Dennis Ward took over the project and has been leading it ever since combining it with his other jobs in music. Ward has been active in Pink Cream 69 and Unisonic and throughout the years has produced many albums including 'Fearless', the 2018 album of Greek master guitarist Gus G on which he also did the vocals. Fact is that Ward is not only a guy for the bass and keyboards. His biggest asset next to his production and playing skills is his voice. Ever since he started singing on the Khymera project he has gone from strength to strength. I just love the versatility in his voice.
MAGNUM
After exiting both Pink Cream 69 and Unisonic (he was co-founder of both bands) Dennis Ward surprisingly entered the ranks of Magnum. In that band he is 'just' the bass player as band leader and guitarist Tony Clarkin handles all the song writing and production work. It was (and still is) a move that I never really understood as he can be so much than just the man on the four strings. Later this year a new Magnum album will see the light of day. But before that is the case Dennis Ward brings us a new Khymera record where yet again he puts down a portion of solid melodic hard rock that flirts with AOR and has a slight metal feel as well.
CONTINUATION OF KHYMERA
'Hold Your Ground' is more or less a continuation of earlier albums like 'A New Promise', 'The Greatest Wonder', 'The Grand Design' and 'Master Of Illusions'. Ward has developed a certain style with Khymera and adds on some more stuff in that same vein. The songs are more rocking at times (,,On The Edge'') but the emphasis is on mid-tempo heavy rock songs that are built around a theme and always with excellent vocal harmonies for which Pete Newdeck is co-responsible.
Assisting Dennis on 'Hold Your Ground' are guitarist Michael Klein, keyboardist Eric Ragno and drummer Michael Kolar. I am not stating here that Dennis Ward has re-invented the wheel with 'Hold Your Ground', but the album is very entertaining, has good songs and sound plus the musicianship is more than excellent. Not much to complain although some people might find that the album is written and recorded on safe mode.
Release date: 10 February 2023