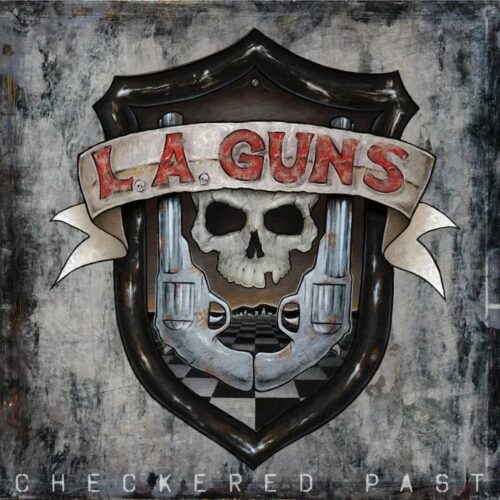 Review | L.A. Guns-Checkered Past
Frontiers Music srl
Two albums in a time spell of barely six months, it is a sign that veteran outfit L.A. Guns is definitely alive and kicking. Earlier this year singer Phil Lewis, guitarist Tracii Guns, drummer Scott Coogan, bassist Johnny Martin and second guitarist Ace Von Johnson released a quite steamy live-album entitled 'Cocked And Loaded Live' and by the time of the release of that album (July 9 2021) they most likely had the recording for 'Checkered Past' already in the can.
INSPIRATION
The level of inspiration has been high the last five years or so. The band has released several albums of which none really disappointed. It would go too far to say that L.A. Guns have managed to deliver top notch work like on their first three albums but I just have a certain weakness for Guns and Co. Sure Phil Lewis has his limitations but he realises that himself better than anyone else. What he does have is a certain style which makes him stand out. I suppose it is just a matter of taste whether that is your cup or tea or not.
TRADEMARK STYLE
On 'Checkered Past' L.A. Guns stays true to their trademark style. After the more ballad type track ,,Get Along'' and the mellow ,,If Its Over Now'' (not a bad effort at all) the band kick starts of in a more familiar style where their raunchy and slightly punky and rebel attitude takes over in songs like ,,Better Than You'', ,,Knock Me Down'', ,,That Ain't Why'' and ,,Dog''. It is here where the band switches gear with Guns and Von Jones riffing it up and splashing some nice solos around as well.
A GOOD BALANCE
On 'Checkered Past' the experienced musicians of L.A. Guns have found a good balance between their raunchy hard rocking and sleazy/punky slide and some more 'sophisticated' material (listen to the melodic tune ,,Let You Down'' where Lewis pours his heart out. Quite possible the best track on the whole album with some subtle orchestration). I am pretty sure that their gang of fans will dig this without any preservations.
If the record will change anything in the position of this group is not very likely, but somehow I think that Guns, Coogan, Von Jones, Martin and Lewis do not really care about that anymore. They feel good doing what they are doing, spreading their way of heavy rock and roll around the only way they know. Going all in, most of the time full throttle and with a self-assured attitude. Keeping their sound as natural as possible and not relying on production gimmicks. What you hear is what you get on 'Checkered Past'. No nonsense, straight in your face stuff and no bones about it. Like it has always been…
Release date 12 November 2021