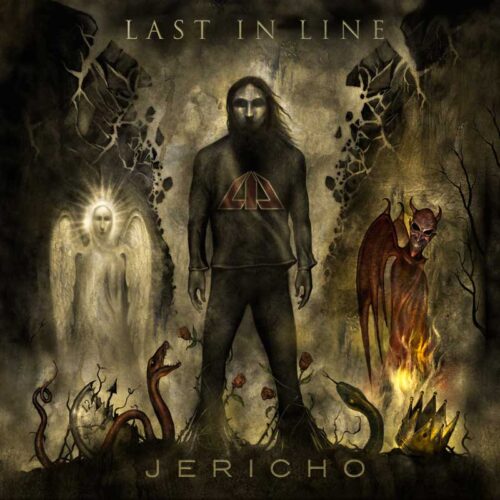 Review | Last In Line – Jericho
earMUSIC
'Heavy Crown' and 'II' are Last In Line records that any fan of classic melodic metal who takes him or herself seriously should have in their collection. Last In Line guitarist Vivian Campbell and drummer Vinny Appice were part of the first Dio line-up and decided more than a decade ago to reform that classic band (sadly without Dio himself, who passed away in 2010) with bassist Jimmy Bain (who passed away shortly after the release of 'Heavy Crown').
As their singer Vinny, Jimmy and Vivian decided on Andrew Freeman and that was a bullseye choice. It was not their intention to just rehash old Dio songs. Sure, there were plenty of them tracks in their live-set but the focus was on new music in that same vein. And they delivered! Together with their new bass player Phil Soussan (ex-Ozzy Osbourne) some four years after 'II' (2019) the new chapter called 'Jericho' is ready for release with their new record company earMUSIC.
POWER AND THE FORCE
Got any love for classic material in the style of the first three Dio albums? I am sure you will demolish 'Jericho'. The twelve-track album is all about the power and the force of this seasoned quartet. I again wonder what Vivian Campbell is still doing with Def Leppard. He might collect a nice pay-cheque for sure but what he shows in his other band Riverdogs and especially in Last In Line is so much more true to his style and roots. The man is an absolute monster in this band, being backed by Appice and Soussan that lay down a foundation that is second to none.
The drive that Appice and Soussan lay down has not only got groove, they lay down a platform for Vivian Campbell to reveal his true capacities as guitarist. And add to that a power vocalist in the person of Andrew Freeman and as a music lover of the genre you just can't go wrong. The song that is a true statement of all the assembled qualities is for me ,,Ghost Town''. Just feel the groove, feel the power and absolutely enjoy the enormous reach that Freeman has in this song.
NO LETTING UP
There is just no letting up on 'Jericho'. It is one bold exhibition of excellent musicianship, songs that knock you out accompanied by a thunderous sound. I have not heard one song that is doubtful. ,,Bastard Son'', ,,Dark Days'', ,,Story Of My Life'', ,,Something Wicked This Way Comes'', ,,Hurricane Orlaugh'' and all the rest, is it one massive highlight after the other. The genre in which Last In Line moves around might be a bit old fashioned perhaps but who gives a shit when this record sounds like a wet dream and ticks all the required boxes. Goose bumps galore folks. You have been told!
Release date: 31 March 2023