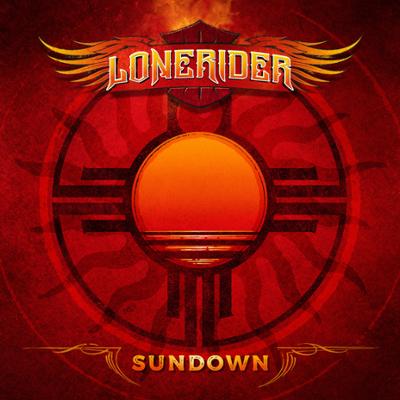 Review | Lonerider – Sundown
Escape Music
UK-label Escape Music, just like Frontiers Records in Italy, bring together musicians to do a project. But there were the Italians just keep doing that almost every month Escape Music just do it every now and then and most of the time label-executive Khalil Turk gets it right. As is the case with Lonerider, a group that combines the talents of Thunder bassist Chris Childs, FM vocalist Steve Overland, top drummer Simon Kirke (Free/Bad Company) and guitarist Steve Morris (ex-Heartland/Ian Gillan/Shadowman).
ATTITUDE
Lonerider really surprised me in a positive way in 2019 with their first album 'Attitude', with strong melodic heavy rock songs. Because of the specific voice of Steve Overland, a comparison with FM was hard to avoid, but for me this was different stuff, carried by the simple but oh so effective power moves by Kirke behind the drums, the subtle keys and crunchy guitars by Morris, an upbeat bass by Childs and the recognisable voice of Overland, making Lonerider sound pretty direct and more in your face. We are some three years down the track since 'Attitude' and on 'Sundown' the group continues the style they started on 'Attitude'. Again, Lonerider produces a 'in your face' sound, full of melody but with a certain drive that is quite addictive if you ask me.
CD AND VINYL
Overland and Morris sat down together to pen some fourteen songs of which twelve made the CD while on the vinyl version of 'Sundown' two different songs are featured. The tracks ,,Prayer For The Lonely'' and ,,Devil Road'' are featured on CD but not on vinyl, while ,,Love To Love'' and ,,Long Time Gone'' are featured on the vinyl version and not on CD. I purchased both versions and the vinyl 'smokey coloured' disc seems to limited to 500, available from the Escape Music store. All in all, not a cheap affair, if you ask me but I must admit that Lonerider delivers value for money on 'Sundown'. All members have been involved with the production and the songs have a robust yet sparkling sound, so that department has been well looked after.
Music wise there is plenty of variety available switching between robust rockers like ,,Wild River'' and ,,Fantasyland'' to more contemporary stuff like the bluesy ballad ,,Prayer For The Lonely''. All the songs are pretty much standing on their own and are of constant quality. It is hard to pick favourites which says enough for the consistency of the whole record. Add to that some outstanding arrangements and some great individual playing. The four seasoned involved musicians have built up so much know how and experience throughout their career and they bring out the best of them not alone in FM or Thunder but also here with Lonerider. This record matches the quality of FM's 'Thirteen' and Thunder's 'Dopamine' so don't be shy and get acquainted with 'Sundown'.