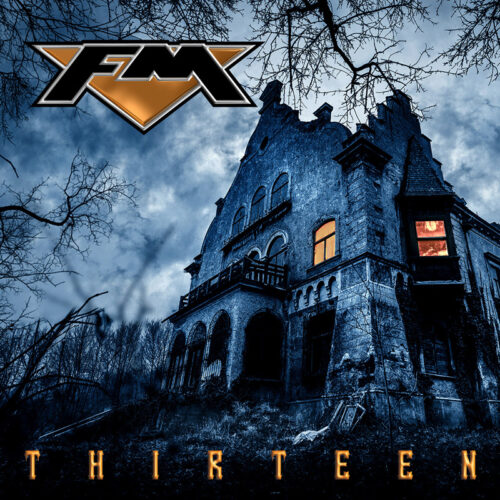 Review | FM – Thirteen
Frontiers Music srl
Ever since making a comeback the musicians of FM have been busy boys. Regular new studio-albums and live-registrations have been released while singer Steve Overland and guitarist Jim Kirkpatrick have been involved with other projects. Especially Overland seems to be in the news more than regularly, also as producer for several artists signed to Escape Music.
LONERIDER
Steve Overland is also the vocalist for the formation Lonerider. Their second album 'Sundown' was scheduled for release on Escape Music for February 25 but has been postponed to May 20 of this year. The reason for that might be the release of 'Thirteen', as FM is most likely more of a priority for Steve at this moment. Two new albums with the same singer within a few weeks of each other might not have really suited all involved parties. That upcoming Lonerider album (with drummer Simon Kirke-Bad Company, bass player Chris Childs-Thunder and guitarist Steve Morris who used to play in Heartland) is something to look forward to as the first album was already of an undisputed quality. But let us see what FM has to offer us on their eleven new songs.
SHEER QUALITY
What the band offers is as we might have expected from these veteran melodic rockers. 'Thirteen' is filled with sheer quality songs and performances. What I like about it in particular is the high energy level of it all. Produced by the FM boys 'Thirteen' seems to rock harder than ever before (,,Turn This Car Around'' is a prime example of that). Overland sounds more 'rough and ready' without the band and the singer losing any of their so well-known melodic features, lush keys, feisty guitars and a rhythm section that is as solid as the bank of England.
It is not that FM has changed its style, that is certainly not the case. They only added some more strength, power and heaviness to their sound. By doing that FM has avoided just that what happens to a lot of bands that have been around for a long time.
FINGER LICKING GOOD
Instead of sounding stale and being stuck in a certain musical formula 'Thirteen' sees a band spreading their wings without losing any of their identity. Keeping all the usual elements but making it sound fresher and slightly heavier. It is a move that has worked out very well on 'Thirteen'. Fans of FM will be very happy as the musicians prove on this record that there is still room for improvement and development. Even after being for some 40 years in the business. As usual the vocal and song arrangements are finger licking good, so FM have come up trumps with 'Thirteen', that not always proves to be an unlucky number!
Release date: 11 March 2022