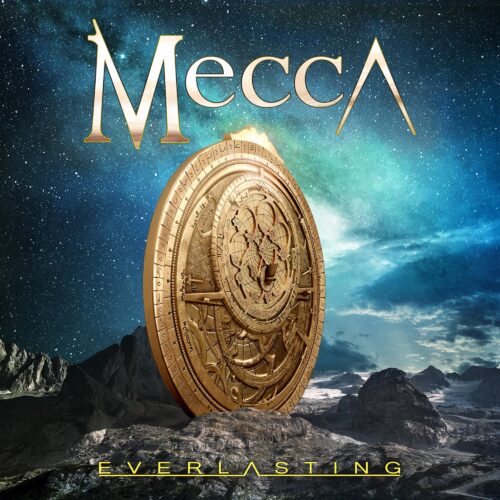 Review | Mecca – Everlasting
Frontiers Music srl
Singer Joe Knez Vana started Mecca over twenty years ago but his working pace has been rather slow. Only three albums came out in that time span but they were all beautiful examples of AOR and melodic rock. Last year Frontiers released '20 Years', which was a package that featured all three Mecca albums plus some bonus tracks on each album to add a little extra. Joe signed with Frontiers for a fourth Mecca album, one that also features his son Joey on vocals. It is the first new album since 'III' that came out in 2016 and as per usual Joe Knez Vana has several guys like Tommy Denander helping out.
A COLD SHOWER
After hearing 'Everlasting' I had the feeling that I was standing under a cold shower. Joe committed himself to Frontiers and things have changed. I find it a bit hard to swallow that the music is missing a key ingredient in comparison with the older records. First, and I do not know if that was a matter of budget, the album has been produced by Alessandro del Vecchio. A very capable producer and song writer indeed but was it really necessary to involve him and a bunch of session musicians that he and the label picked? The Mecca sound has become more robust in total and it is a lot less subtle.
The key element that always dominated the character of this band has been shoved to the background. In the past Vana and his associates excelled when it came to sensitive and gorgeous ballads like for instance ,,Ten Lifetimes'', ,,A Kiss On The Wind'', ,,As I Walk Alone'', ,,Don't Stop Love'' and a more upbeat song like ,,Perfect World''. They were the cherries and cream on the Mecca cake. That important element is not completely ignored on 'Everlasting' but it surely is not as prominent as it used to be.
OWN IDENTITY
With Joe's voice and his sensitive songs Mecca had their own identity. Not that that has gone completely down the drain but this CD sounds like a run of the mill record that we have heard so many times coming out of the Frontiers stable. Do not get me wrong, 'Everlasting' is good as the two Vana boys sing beautifully and guitarist Sven Larsson (you might know him from the band Street Talk) plays his heart out. And there are absolutely good moments there as well (,,The Mistakes We Make'' is a great rocker and kicks ass) but if you are a person who got to know and appreciate the three former albums you will notice a big change.
A change for the better? If I am brutally honest the answer to that is no. I severely doubt if the involvement of the label has done Mecca any good. Sometimes you got to let a band/musician do their own thing as they have proven to be very capable of doing that. Looking at their past achievements Mecca at least deserved the benefit of the doubt in my humble opinion….
Release date: 21 April 2023