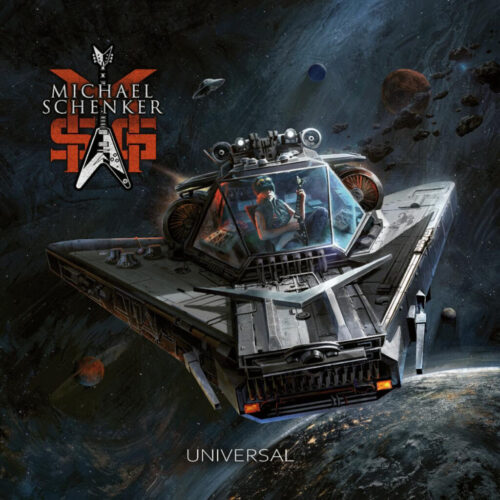 Review | Michael Schenker Group – Universal
Atomic Fire Records
In the weeks of April and May Michael Schenker Group has been touring through Europe celebrating 50 years of the guitarist being in the business but also putting the new album 'Universal' into the limelight (before the album being officially released). It came a bit as a surprise that singer Ronnie Romero (temporarily) bailed out of the line-up as the good man was participating in the Eurovision Song Contest representing Bulgaria [he didn't make it to the finals] missing the whole tour.
Good Old Robin McAuley stepped in as saviour of the day so everything went ahead as scheduled and following regular posts on social media made by drummer Bodo Schopf, guitarist/keyboardist Steve Mann and bass player Barend Courbois the band played for full crowds everywhere, not forgetting to look back at the rich career of Michael Schenker with especially several classic UFO-songs in the setlist. It seems that Romero will be back for the second leg of the tour which will see the band embark to the USA.
PLENTY OF MUSICAL GUESTS
Just as was the case on predecessor 'Immortal' (2021) Der Michael worked closely together with producer Michael Voss, his 'to go to' man for the last decade or so. Voss has a firm influence of the guitarist and that has paid dividend. And as was the case on 'Immortal' also 'Universal' counts plenty of musical guests. It is quite obvious that the current musicians in the group have contributed but also the drummers Brian Tichy, Bobby Rondinelli and good old Simon Phillips have done work for the album. On ,,A King Has Gone" bass old-timer Bob Daisley has a guest spot and another familiar name guesting is Barry Sparks (bass).
Yet again Primal Fear-vocalist Ralf Scheepers has sung a tune, as has current Helloween man Michael Kiske. Oh yes, also MSG-singer from the first hour Gary Barden has joined up doing a duet with Ronnie Romero on the track ,,The Universe'', so in a way you can say that a familiar group has been helping out. Not so familiar is keyboardist Tony Carey (ex-Rainbow) who plays the intro for the song ,,Calling Baal'' (just a short instrumental intro) that leads into ,,A King Has Gone'', sung by Michael Kiske. Here is where Michael Schenker pays tribute to the late great Ronnie James Dio in a song that has certain Rainbow features (logical with Daisley, Carey and Rondinelli) indeed, but has a typical Schenker solo.
A SOLID ALBUM
Having heard this album plenty of times I can only say that 'Universal' is a solid Michael Schenker Group album. Is it the best he has ever made in his 50-year career? No, not really. But on the other hand, it is most certainly not a failure either. Schenker has made such an awful lot of albums that it is almost impossible to give it a fitting spot in his catalogue. Like on 'Immortal' the man rocks more steady and harder, his signature sound is there, his musicians are good and Ronnie Romero, who sings the bulk of the album, as always delivers a certain quality. 'Universal' and 'Immortal' are highly comparable with each other. If you like 'Immortal', you will like this one, I guess. For myself though I had expected just a bit more quality in the song writing.
THE UNEXPECTED
For me a few tracks sound like they were written with the automatic pilot within reach. There are thirteen songs on the record (as usual various formats) which is quite extravagant for Michael Schenker but maybe next time the guitarist and Michael Voss could be extra critical on what they write and record. Pretty sure though that the Schenker fans will be satisfied with 'Universal' as it has all the usual ingredients. But it is the word 'usual' where the small problem lies for me as the real surprise, that unexpected feature/factor is not there.
Release date: 27 May 2022
About
German guitarist and songwriter known for Scorpions, UFO, Michael Schenker Group, McAuley Schenker Group, Michael Schenker's Temple Of Rock, Contraband, Michael Schenker Fest.
Active since 1969.
Genre
rock, hardrock, heavy metal
Website
http://www.michaelschenkerhimself.com/home.php
Social
Related links
Tags