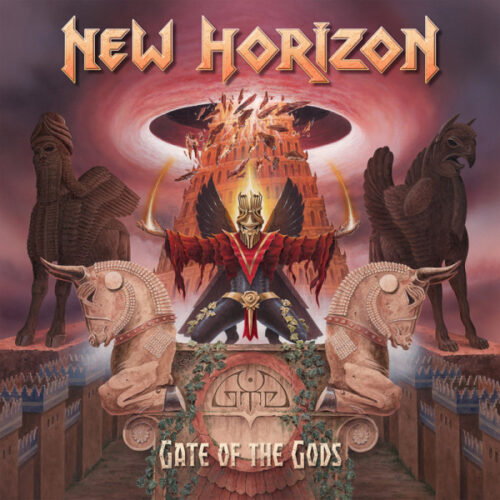 Review | New Horizon – Gate Of The Gods
Frontiers Music srl
New Horizon is the brainchild of multi-instrumentalist Jona Tee, who is also a member of H.E.A.T. Growing up, Jona always loved and still has lots of admiration for heavy/ power metal bands like Helloween, Hammerfall, Edguy. To fulfill a long lasting dream he started to write music for his own power metal project. Don't you think that this is just H.E.A.T's heavy brother because New Horizon has really become a pure power metal project.
Originally it was meant to feature several lead vocalists but once his former band mate, Erik Grönwall laid down his first vocal tracks for the album, it was clear to him that Erik would sing on all the tracks.
TOP PERFORMANCE
The songs Jona had written for the debut 'Gate Of The Gods' album perfectly suited Erik's voice who recorded this during his battle with Acute Lymphocytic Leukemia (ALL). What he delivers vocally is simply a top performance, which many will not be able to match, even in top condition.
Besides Jona writing everything, he produced the album and was the person who recorded all bass/ guitar and keyboard parts.
Drummer Robban Bäck (Mustasch) provides a solid foundation, and for the guitar solos Sam Totman (DragonForce), Love Magnusson (Dynazty), Dave Dalone (H.E.A.T), Niko Vuorela (Temple Balls), and Laucha Figueroa were responsible.
ROCK HARD POWER METAL
'Gate Of The Gods' starts with the intro ,,The New Horizon'', that has a big 80s vibe. Followed by ,,We Unite'' the song that was first unleashed to the world to introduce the band end of November last year. If you still had any hope that this would be a melodic hard rock album, that is now gone. This is a rock hard power metal song that has a killer tempo right from the start. In all fairness I must say that the melody of the chorus on this song is very reminiscent of ,,What A Feeling" (Flashdance) from the eighties, which at least was an inspiration. Next on the menu is ,,Stronger Than Steel'' that was already released in January. This song has a killer [Accept-ish] guitar groove and is one of the strongest on the album. It has a great feel and once again shows why Grönwall is a more than gifted singer. It also has an amazing solo that is nice and melodic.
EASY ON THE EAR
,,Cry For Freedom'', although this is a heavy song with progressive elements, the melodic vocals ensure that it doesn't get too heavy and is a nice, fast paced earworm. ,,Call Of The Underground'' starts very slowly with a catchy hymn, before it explodes into another power metal monster, that includes the hymn as the chorus as well. ,,Stardust'' opens with a light keyboard melody, but when the guitars are unleashed it becomes another powerful song. The chorus is again easy on the ear and very likely will stick for a while.
INSANE
,,Event Horizon'' is the last of the three songs the band already released and yet again a song that can get you pumped easily. Catchy melodies, great vocals, killer solo. It really showcases the talents this band has in store. ,,The End Of All'' is a slower paced/grooving monster of a song. The heavy riffs combined with the melodic approach of the vocals are insane and once again this one has a chorus that sticks to you immediately, including a great keyboard and guitar solo. ,,Fearless'' starts with a guitar intro that is somewhat inspired by the famous ,,Wasted Years'' riff, but with its own New Horizon twist. As soon as the first verse starts, the structure of the song reminds me somewhat of early Pretty Maids.

Album closer ,,Gate Of The Gods'' is a epic 7 minutes song, that starts with oriental scenes, a lovely keyboard and guitar riff. Again the band manages to surprise with a wonderfully grooving feel and yet again a great catchy chorus. After just under 3 minutes the song turns into a fast paced power metal monster that also showcases a more aggressive vocal style of Erik. Only to morph back into a slow middle section and back to the catchy feel and groove of the start of the song. A great song that grows with each listen.
SCENE
New Horizon's 'Gate Of The Gods' has become a wonderful, well produced, power metal album, which grows on you with every listen and where you keep discovering new things. Jona and Erik have managed to interweave traditional power metal with wonderful catchy melodies and choruses in a beautiful way. With this effort the band has gained a place the scene and hopefully we can also catch them live somewhere, because I do think they would be a great addition the many festival/ live bills.
I would like to advice H.E.A.T fans to give this record a few spins and let it grow on you, because this is just another monster from Jona in a different league than what we are used to hear from him.
In my opinion Jona and Erik managed to find a way to earn a place in the power/ heavy metal genre with strong song writing, a great production and great vocals efforts and I would strongly advice enthusiasts of that genre the go and buy this outstanding record.
Release date: 11 March 2022