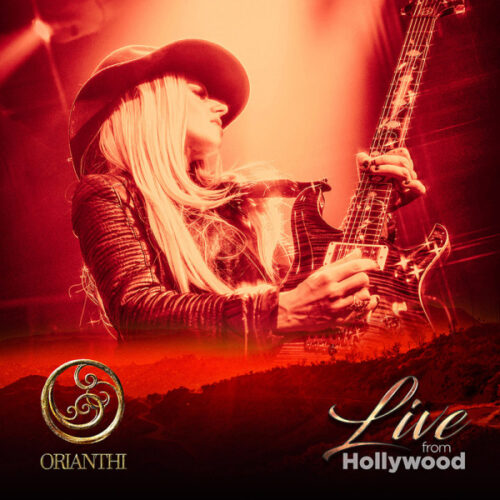 Review | Orianthi – Live From Hollywood
Frontiers Music srl
Orianthi Panagaris is a busy person. The Australian guitarist, singer and songwriter rehearsed in 2009 with Michael Jackson in preparation for his 'This Is It' concert series and performed with Alice Cooper's touring band for some years. She also made four solo albums and played with artists like Carrie Underwood, Michael Bolton, Dave Stewart and Richie Sambora.
MISSING
The thing missing in her catalog was a live album. With 'Live From Hollywood' this gap in her musical catalog is filled. This performance is captured on January 8th, 2022 at the Bourbon Room in Hollywood, CA. The guitarist and her backing band are in fine form, playing songs from Orianthi's most recent release 'O' as well as her modest hitsong ,,According To You''.
OVERVIEW
When you are not yet familiar with her solo work this album is a great way to start. It contains a good overview from her entire oeuvre. Four songs, ,,Contagious'', ,,Sinners Hymn'', ,,Blow'' and ,,Impulsive'' of 'O' [2020], ,,Heaven In This Hell'' and ,,You Don't Wanna Know'' from 'Heaven In This Hell' [2013]. ,,Think Like A Man'', ,, What's It Gonna Be'', ,, According To You'' from 'Believe' [2009] and ,,How Do You Sleep'' is on the 'Fire' EP [2011]. ,,Blues Won't Leave Me Alone'' is from the RSO project she did with Richie Sambora.
CLASSIC BLUES ROCK
Most of the songs are heavily infused with classic blues rock influences and beautiful guitar work by Orianthi. I am less charmed by her singing qualities, which are fine in themselves, but certainly not above average. `Live From Hollywood' captured in a beautiful way what must have been an absolute party that evening. The musical level of this orchestra is really top notch.

The album also shows that the quality of the songs have improved over the years. Her earlier works are somewhat cheesy [,,According To You'' for example], but her latest songs rise above that level. This live album is a prelude to her upcoming studio album. I'm really curious how Orianthi has developed further as a songwriter, because that she can play guitar is clear.
CONCLUSION
`Live From Hollywood' is a beautiful blues rock album that managed to capture the live mood and feel of her first solo works. If you are into that genre, this album is absolutely worth a listen. If Orianthi comes on tour, I will definitely go and check it out because a high quality musical blues rock evening will be guaranteed.
Release date 15 July 2022