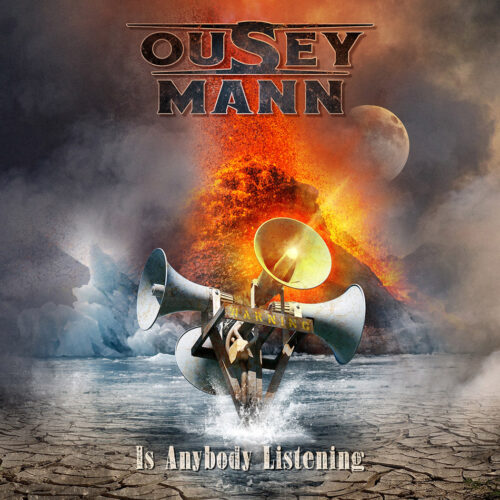 Review | Ousey Mann – Is Anybody Listening
Escape Music
This project Ousey Mann between the seasoned musicians Steve Mann (Michael Schenker Group and Lionheart) and singer Chris Ousey (Heartland and Snakecharmer) came about some two years ago and has finally come to a result in the form of the 13-track CD 'Is Anybody Listening'. When you look at the CV of both gentlemen and are familiar with their music this CD sounds as a natural thing.
MULTI-FUNCTIONAL
Steve Mann is a multi-functional musician. He plays guitar and keyboards and has all the technical skills to look after a good production, mix and mastering. Mann has been working for Escape Music on a regular basis as such and people with a bit of rock and roll knowledge know that Steve also was in the UK band Liar that was active years ago but recently came in the news as Escape released their third album 'Sunset Plaza Drive', that had been gathering dust for several decades. He is also active in the band Lionheart and nowadays Steve is touring with the Michael Schenker Group and can also be heard on their latest album 'Universal'.
HAPPY FEW
Chris Ousey is a singer that for me belongs in the category of a certain Paul Rodgers. It is a mystery to me why this man, who has been active in bands like Virginia Wolf, Heartland, The Distance, Snakecharmer and as a solo-artist, is not a household name in the rock world. Sure, insiders know about his enormous vocal capabilities and appreciate him but let us be honest here, Chris is only known by the happy few and not so much by a huge audience. Why?
It beats me as this man has all the ingredients a rock singer should have: charisma, reach and a very recognisable voice that is extremely versatile. He really belongs in the category Paul Rodgers and Glenn Hughes. You want to check that out for yourself? Well, try out 'Is Anybody Listening' or the latest Heartland CD 'Into The Future' (2021) or check out the two Snakecharmer records. I am pretty sure you will learn to appreciate and love his voice.
STYLE
What can you expect from 'Is Anybody Listening'? Well, Steve and Chris and their musicians including Lionheart drummer Clive Edwards and Angela Mann on bass have come up trumps with thirteen well balanced rockers and ballads. Steve Mann has written all the music while Chris Ousey composed the lyrics and vocal melodies. Like I stated, if you are familiar with the musical past of this duo you will hear influences of Lionheart, Heartland but also Michael Schenker and a sniff of Snakecharmer. And it is this familiarity in the music that makes 'Is Anybody Listening' so attractive as Steve and Chris have found the perfect balance in the sound and the songs. It is like when Ronnie James Dio presented his first Dio-albums 'Holy Diver' and 'The Last In Line', the perfect mix between Rainbow and Black Sabbath with his own touch added.
That is something that Steve Mann and Chris Ousey have achieved with their album, the perfect mix of their former and current bands without sounding like a cheap copy. A bit of this and a bit of that, perfectly produced, played and sung. All the songs are good, there are really no tracks that are disappointing. In fact, this album is as consistent as an album can be and if above mentioned groups of their past and present appeal to you, I am sure that this cooperation between Steve Mann and Chris Ousey will be your thing for sure! Hopefully Chris and Steve find the time and the inspiration to follow this up in due time.
Release date: 24 June 2022