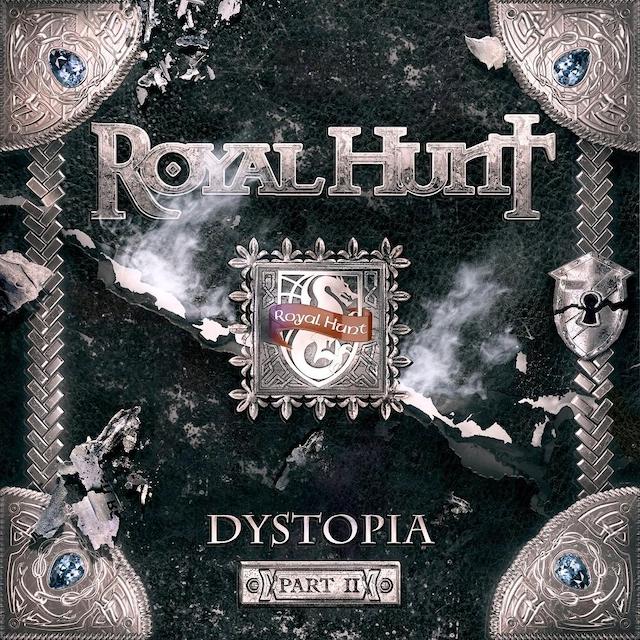 Review | Royal Hunt – Dystopia Part 2
NorthPoint Productions
In 2020 Danish prog/hard rockers Royal Hunt released 'Dystopia Part 1'. If you liked that formidable album you can buy 'Dystopia Part 2' without even listening to it, as it is even slightly better than its predecessor! The story, which inspired this two-album project, being the classic Si-Fi novel 'Fahrenheit 451', written by Ray Bradbury in 1953, gets more intense on this second album and the music is even more dynamic and heavier. 'Dystopia Part 2' again features guest musicians Mark Boals, Kenny Lubcke, Alexandra Andersen, Henrik Brockman and Mats Leven and the nine new tracks are filled with screaming keys, melodic guitars, beating drums, breath-taking vocal parts and impressive, utterly catchy melodies that will haunt you through the day!
PROG POWER HIGHLIGHT
'Dystopia Part 1' ended with the song ,,Midway", and this new album kicks off with "Midway" as well. A short (1:25) orchestral, emotional overture, followed by the ass-kicking up tempo hymn ,,Thorn In My Heart" (the first singly by the way). If after listening to that impressive track you are still not convinced that Royal Hunt is a superb, underrated band then there is truly something wrong with your ears. ,,The Key Of Sanity", featuring the excellent voice of Leven, is a true prog power highlight with a very catchy chorus. The instrumental ,,The Purge" seems connected to the instrumental ,,Black Butterflies" of the previous album. ,,One More Shot" features Mark Boals and Henrik Brockman and this one is a real hard rocking track with again an utterly addictive chorus and some awesome guitar picking by Jonas Larsen.
EPIC PROG ROCK GEM
Absolute highlight of this album and probably one of the best Royal Hunt songs ever is called ,,Scream Of Anger"! A true epic prog rock gem kicking off with a beautiful instrumental, orchestral intro of five minutes, featuring awesome guitar and keyboard solos and passages, followed by the great vocals of DC Cooper.This epic prog rock monster, clocking in over fourteen minutes, has it all. This truly is Royal Hunt at its best, top-notch music, or better said melodic prog metal at an exceedingly high musical level. Play this song loud and you will be hooked for sure. As this album ends with the short orchestral instrumental ,,Resurrection F451" you will want to listen to 'Dystopia Part 2' repeatedly. A masterpiece, a MUST have album for all lovers of melodic prog power music, buy or die!!
Release date: 28 oktober 2022