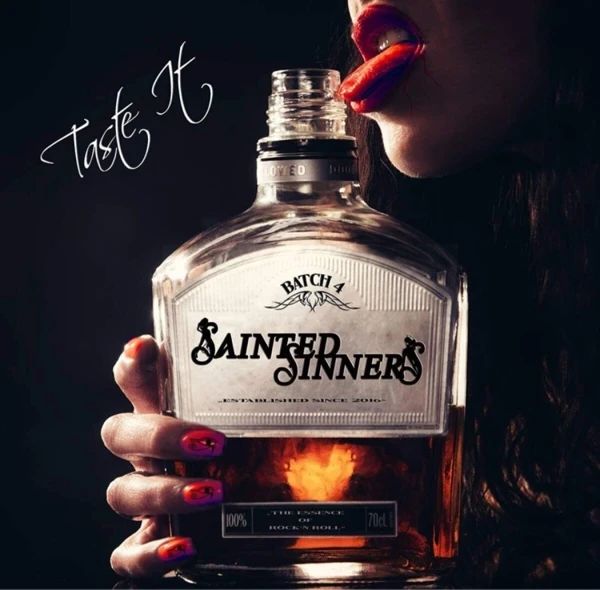 Review | Sainted Sinners – Taste It
ROAR / Soulfood
A new label for Sainted Sinners! After delivering three albums for El Puerto Records it was time for a new chapter in the career of this group, that since their third strike ('Unlocked & Reloaded') has turned into an international outfit. Guitarist and founder Frank Pane is German, drummer Berci Hirleman is from Hungary, bass player Rico Bowen is American while singer Jack Meille and keyboardist Ernesto Ghezzi hail from Italy.
COOL
Has this change of label also brought changes to the music? Not really if you ask me. Sainted Sinners has always been a traditional melodic hard rock band with references to bands like Deep Purple, Rainbow and Van Halen (especially the guitar work). That has not changed. There are several really cool songs to be found on 'Taste It'. Opener ,,Against The Odds'' rocks hard immediately and have a good listen to the superb bass lines that Rico Bowen displays on this song.
It is a bit strange that the bass player is not featured in the videoclip for this particular song. That could be because of COVID-19 restrictions perhaps, not really sure. And there are more really cool tracks such as ,,One Today'' or the short but furious outburst ,,Good 'Ol Company''. Also the closer of the album ,,Heart Of Stone'', a real nice ballad that stretches over seven minutes, is a little treasure, where Meille really shines.
NOT SO COOL
Unfortunately there are also songs on the album that are not so cool. I really can't do anything with the band's version of the REM hit ,,Losing My Religion''. Sainted Sinners sounds totally out of place on this one while also the bar room boogie rocker ,,Coffee, Whisky & Rock 'n Roll'' is completely out of their comfort zone. And there are a few other compositions that I would describe as doubtful at the least.
TYGERS OF PAN TANG
I wonder if Sainted Sinners is making proper use of the capacities of Jack Meille. We all know him as the superb front man of Tygers Of Pan Tang where he is by far the star attraction. On this album the key in which Meille sings most of the songs seems to be somehow misplaced. When he sings lower and mid-range like on ,,Heart Of Stone'' he works wonders but on a lot of the more faster tracks he goes up high constantly and that somehow starts to become boring after several songs. It is also obvious that the level of song writing is this time not completely there.
The playing and the performance of the songs is as you might expect from musicians that have been in the business for a long time satisfactory to say at least. The conclusion is nevertheless that 'Taste It' is an album with two different faces and levels. A few really top songs, a few mishaps and several songs that do not add a lot to the repertoire of the group. A positive note must be made for sound and production as 'Taste It' has enough energy and power. Just a pity that this time the band has not got enough top songs on offer.