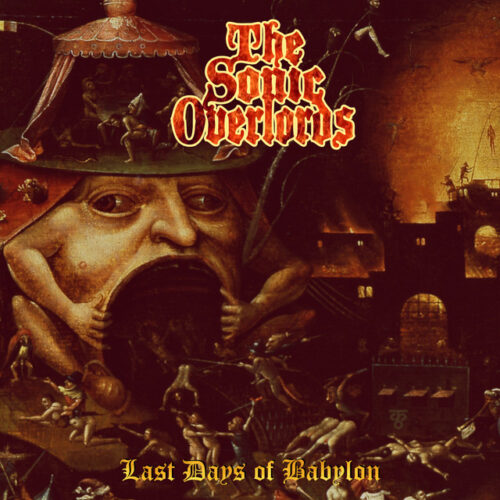 Review | The Sonic Overlords – Last Days Of Babylon
M-Theory Audio
On their first full album the Swedish metal/doom rockers of The Sonic Overlords are handing out a calling card that is at times pretty impressive if you ask me. Consisting of guitarist Morgan Zocek, bass player Daniel Ramirez, drummer Per Solang and vocalist Marcus Zachrisson Rubin, this group has been around for a few years and carefully introduced themselves to the metal market starting of with the singles ,,In My Darkest Room'' and ,,Utopia'' (both songs are on the album as well).
MIXING IT UP
The songs on 'Last Days Of Babylon' feature a band that is really mixing it up. Although they are seen as a doom metal band, there is more to discover. You will find out what exactly when you explore the ten songs. Clearly influences from bands like Spiritual Beggars, Candlemass, Solitude Aeturnus, Sorcerer and the one and only Black Sabbath are not to be denied but the quartet also does not shy away from more classic heavy metal with a melodic touch in the vein of Deep Purple. And there is also the fact that every now and then The Sonic Overlords add tempo and extra dynamics to the musical proceedings.
To describe The Sonic Overlords as just another doom metal band is not completely accurate. Not even half of the album contains pure doom metal, it is more a mix between styles, and that gives 'Last Days Of Babylon' a welcome portion of variation. Only the slow but heavy stomper ,,Lords Of No Tomorrow'' is pure doom Sabbath style. But ,,World On Fire'' is a song where The Sonic Overlords bring their talents to full exploitation. It starts as a semi-acoustic ballad but it twists and turns its way into a slow-paced heavy metal anthem with a splendid solo by Morgan Zocek before again it switches 'character' and picks up speed and energy. Definitely the most outstanding track on the whole album.
TONY MARTIN
,,World On Fire'' may be the best track, towards the end The Sonic Overlords give room to former Black Sabbath singer Tony Martin (whose new album 'Thorns' is just out) as he stars on the album closer ,,Past The End Of Time'', a song that could have been on a Sabbath album with Martin on vocals. What this contribution by Tony Martin also makes clear is that singer Marcus Zachrisson Rubin still has got a few things to work and improve on. He certainly does not do a bad job on this record (far from), but he is no Tony Martin. Still, I think this album deserves the thumbs up for sure as at stages it really sounds impressive. If above mentioned groups belong to your favourites, I am pretty sure that The Sonic Overlords will appeal to your taste with their first born.