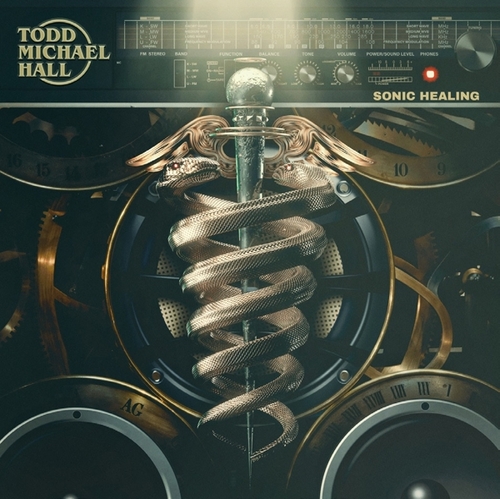 Review | Todd Michael Hall – Sonic Healing
Rat Pak Records
The first real solo effort by current Riot V vocalist Todd Michael Hall (also worked with Harlet and Jack Starr) came about after the singer participated in the US version of 'The Voice'. He gained attention with him singing the Foreigner hit ,,Juke Box Hero''.
WRITING PARTNER
A bit later Todd expressed his wish to make a classic seventies/eighties heavy rock record and spoke about that with Joe O'Brien, the owner of Rat Pak Records. Problem for the singer was that his writing was singer/songwriter-based material. The idea came about to involve Kurdt Vanderhoof (mastermind of Metal Church and Presto Ballet) and attached to the Rat Pak label. Both musicians had met before but never worked together. With Vanderhoof as writing partner and guitarist on board recordings could begin.
'Sonic Healing' is indeed very classic and Hall shows off some other ranges of his voice, a bit different that the stuff he normally plays with Riot V. Listening to the twelve tracks it is as if time has been standing still. Especially in the lyrical department the topics are let we say 'nostalgic' and at times a bit cliché and very simple as well. ,,Long Lost Rock & Rollers'' really pays tribute to the eighties sound, style and lets us say 'party' culture while ,,Let Loose Tonight'' is about the anticipation a musician feels before a concert. All innocent stuff.
DREAM COME TRUE
The music that has been written by mostly Kurdt Vanderhoof is pretty basic. Very straight forward hard and heavy rock with plenty of guitars and up-tempo most of the way. You would almost call it totally old-fashioned material in the vein of bands like Kiss and co. It certainly highlights the singing of Todd Michael Hall who with this traditional hard rock stuff sees his dream come true. The album is done with love and lots of enthusiasm and Vanderhoof as guitarist still kicks ass although at stages it is a bit predictable. 'Sonic Healing' came out some months ago but we thought that it is never too late to bring an album to your attention if the music deserves it.