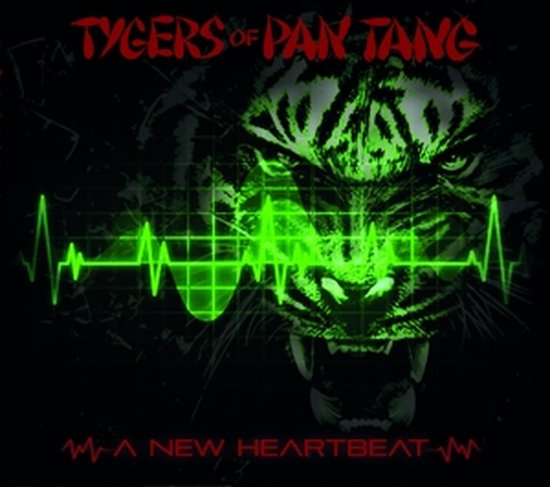 Review | Tygers Of Pan Tang – A New Heartbeat
Target Records / Mighty Music
After the release of their compilation-album 'Majors & Minors' in May 2021 some changes in the line-up were due for Tygers Of Pan Tang. New guitarist Francesco Marras was welcomed just before the release of that compilation and bass player Gav Gray soon after left to be replaced by Huw Holding. With their new line-up the band around original guitarist Robb Weir started working on a new record.
FIRST TASTE
The first taste of the current musical direction of the band can now be heard on a four track EP called 'A New Heartbeat', an appropriate title for this rejuvenated group. The songs ,,A New Heartbeat'' and ,,Red Mist'' do not sound really different though but are surely rocking as hell with their robust character, power chords and Jack Meille singing with his incredible power. Nothing new under the sun perhaps but damn tasty indeed.
WILD CAT
In 1980 the Tygers came onto the scene with their first album 'Wild Cat'. At the time their singer was Jess Cox, a bit of a monotonous vocalist who was quickly replaced by Jon Deverill who recorded their most famous record 'Spellbound' with them (and also a certain John Sykes had re-enforced the group). From the 'Wild Cat' days the current musicians have chosen ,,Fireclown'' and ,,Killers'' and re-recorded these tracks with Meille giving them obviously a better vocal approach compared to the original version. What is striking though is that both songs have not really been re-arranged or changed.
They stuck to the original arrangements (more or less) but as we are 40 years further recording quality and production wise things have been beefed up immensely. A pity that the band did not add a song or two from 'Spellbound', but who knows what the future might bring. 'A New Heartbeat' is the first sign of life of this revamped line-up and it seems that a new full album will follow later this year. What more can we say then bring it on guys!