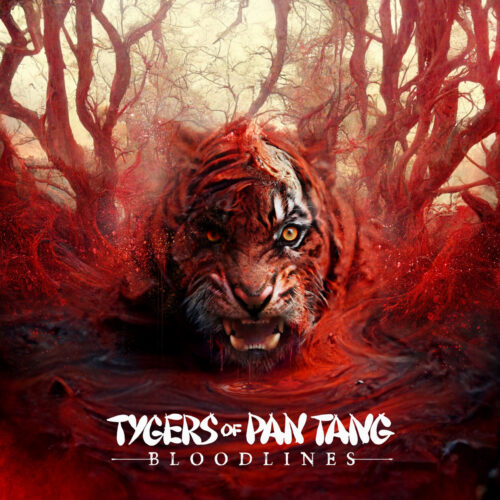 Review | Tygers Of Pan Tang – Bloodlines
Mighty Music / Target
A few months ago, English melodic metal band Tygers Of Pan Tang released a snippet of the new album 'Bloodlines'. The EP 'A New Heartbeat' contains four songs including two remakes of songs that were featured on their debut album 'Wild Cat'. That came out in 1980 when the New Wave Of British Heavy Metal was about to explode with Tygers Of Pan Tang as one of the front runners. Especially their second album 'Spellbound', with their new singer Jon Deverill and new star guitarist John Sykes really put the band, that was started by guitarist Robb Weir, on the map.
Unfortunately, the group cannot give that success another dimension and after the departure of Sykes and later Deverill it seems over and out. But Robb Weir always kept believing in his group. After a hiatus and some old members working under the Tygers moniker for a while in 1999 Robb Weir reforms the group and has been going ever since together with drummer Craig Ellis.
NEW SINGER OF TYGERS OF PAN TANG
In 2004 a new singer joins the group. Italian maestro Jacopo 'Jack' Meille who's strong singing gives the group a new lease on life. Although several guitarists and bass players joined and left since the reformation, Meille, Ellis and Weir just keep at it. Especially the albums 'Tygers Of Pan Tang' (2016) and 'Ritual' (2019) are excellent old school melodic metal records with big guitars and big vocals. In 2021 the band comes up with the compilation album 'Majors & Minors'. Not long after that bass player Huw Holding and Italian guitarist Francesco Marras join the ranks, ready to participate on 'Bloodlines', the 13th official studio-release.
A CLEAR DIRECTION
Working together for the first time with producer Tue Madsen (Moonspell) has given the band a boost. It is not that Robb Weir and his mates have changed things around too much. Ever since that 2016 album 'Tygers Of Pan Tang' the band has established a clear direction that is also being executed on 'Bloodlines'. No nonsense melodic metal with scorching guitars and impressive vocals by Meille mixed with a contemporary metal ballad. The songs are pretty much on the short side from some three minutes with two tracks just going over the five-minute mark. But it is all very energetic and the sound is absolutely pounding.
,,Fire On The Horizon'' with its neck break speed and hellish guitar work is definitely a highlight while ,,Taste Of Love'' is the ballad that is compulsory for a band like Tygers Of Pan Tang. All in all, 'Bloodlines' is an impressive affair. It might maybe not take this band on a new route and it might not sound too surprising perhaps but it is pure quality. As I said this group has a clear musical direction and is sticking to that. Good for them!
Release date: 5 May 2023