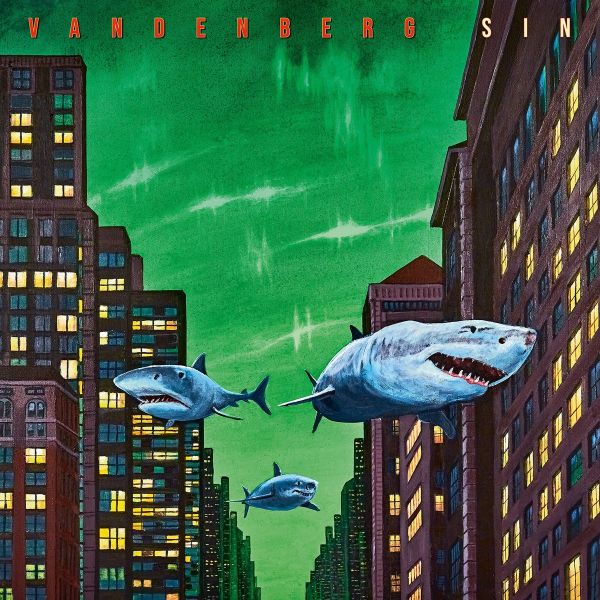 Review | Vandenberg – Sin
Mascot Records
Vandenberg is without a doubt one of the most successful Dutch rock bands ever with their most epic period in the eighties. Founder/composer/guitarist Adrian Vandenberg re-started his band some three/four years ago and recruited former Tank bass player Randy van der Elsen, drummer Koen Herfst and he had a commitment from vocalist Ronnie Romero. Working with experienced producer Bob Marlette the band produced a strong album entitled '2020' and was set to do some great things. Until band hopper Ronnie Romero (as he also recently did with Michael Schenker) pulled the plug for other musically (and possibly more lucrative) adventures.
SWEDISH POWERHOUSE
Luckily a more than capable replacement was found in the person of Swedish powerhouse Mats Levén. A man that started out with Swedish Erotica and has had an exciting career since then working with (just mentioning a few) Yngwie Malmsteen, Treat, Krux, Abstrakt Algebra, Krux and more recent Candlemass. A bloke with a strong voice and in the position to sing various styles of heavy rock music when you look at his CV.
SPOT ON
The nine songs on 'Sin' prove that Mats is the right man for the job. He is spot on and gives the album a real kick up the ass and certainly extra substance. Vandenberg sounds heavier than they ever did before, turning it up a notch or two when you compare this record with '2020'. Adrian has moved on from his old days and this version of Vandenberg cannot be compared with the eighties line-up and sound. This is a very different cup of tea. With a solid and groovy foundation laid down by Herfst and Van der Elsen, Adrian and Mats have all the ammunition they need to do their thing.
SEQUENCE
The only thing I would have like to have seen would be a different sequence of songs. The album opens up in a superb manner with the irresistible rockers ,,Thunder And Lightning'' and ,,House On Fire'' before the Zep-type title-track ,,Sin'' lifts the record to an even higher level with its 'lazy' groove and heaviness. These first three songs are for me the strongest. Not that tracks such as ,,Burning Skies'', ,,Walking On Water'', ,,Light It Up'' and ,,Hit The Ground Running'' are that much less, they are not, but towards the end there is a small dip as the ballad ,,Baby You've Changed'' is certainly not the strongest one Adrian ever wrote (maybe would have fitted better halfway through the album). Closer ,,Out Of The Shadows'' is certainly one of the heaviest tracks on 'Sin', with again a super groove but a bit of a weird end.
VANDENBERG – THE CONCLUSION
It is a done deal now but for me the epic title-track would have been a better closer for the album. You begin strong, keep it level, and end on an absolute high with the best song available. It is just a small point of criticism that does not take away that Vandenberg in 2023 has become a modern and more epic rock band than ever before in their history and what also needs to be said is that the production by Bob Marlette is outstanding and out of this world.
Release date: 25 August 2023
About
Dutch guitarist, songwriter, music producer and art painter. Adrian is best known as guitarist for Vandenberg and Whitesnake.
Genre
hard rock, classic rock
Website
https://vandenbergband.com
Social
Tags