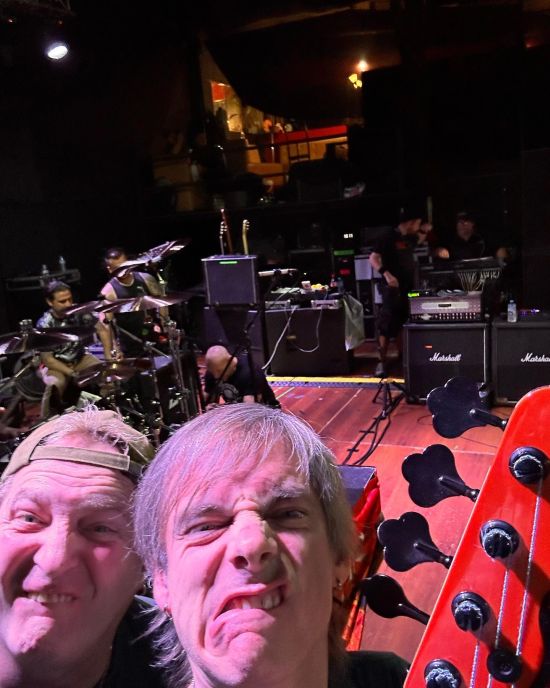 Exclusive | Primal Fear Latin America Tour Part 4
Tour Tales
Where was I?
Ah…… Me and the Primal Fear gang are up in the air now and we still have to pass immigration in Mexico, this will be an adventure too but we get help on that side in Mexico. We have an invitation letter from Mexico Metal fest and we might just have to pay taxes over our gear, those taxes will be paid back after leaving the country. I will tell you later about how that went.
ARRIVED IN MEXICO CITY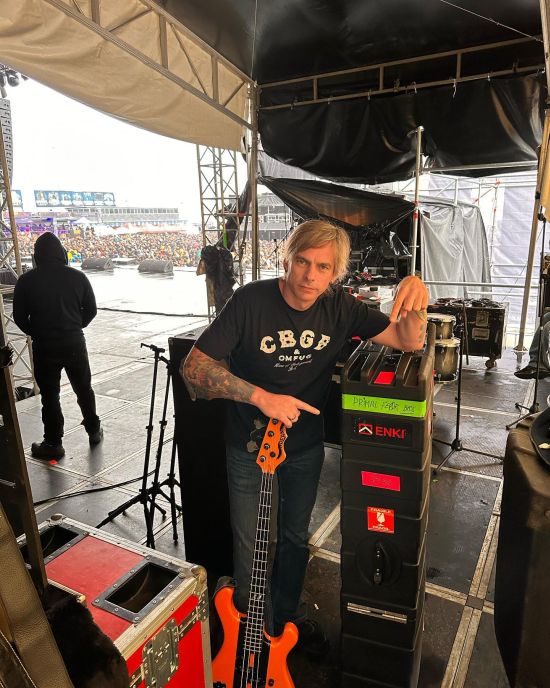 Arrived in Mexico City and there was an assistant waiting for us to get us through immigration and that went very smoothly. We didn't have to pay taxes or anything so this was very easy. We then had to run as the lay over time was not too long, but we made it. After boarding the plane to Monterrey Mexico we notcied there were already a lot of metal heads on the plane. Touch down in Monterrey was easy too, luggage came fast so off we go. There was a lot of traffic so we had to wait outside in the sun for a while for our shuttle to arrive. The ride to the hotel was 45 minutes and we were happy to be at the hotel. We didn't really sleep on the plan rides and we were pretty tired from the whole travel.
The hotel is a very nice place. We checked in and we decided to sit at the pool area and after that we went to have tacos at a local restaurant. This place was not the cleanest but the tacos were delicious. The evening ended with drinks at the pool, after which we went to bed early as we were all tired.
PRIMAL FEAR – A DAY OFF
The next day was a day off so we enjoyed the pool after breakfast. The water was great, the whirlpool was great and after enjoying all of this we went to have lunch. A quick burger at Carl Junior and after the lunch me, Alex B and Achim (sound engineer) went for a stroll to the area nearby.
In the evening we decided to go to the taco place again and this time we had a visitor, a cockroach, not a small one but he was pretty big. The food was delicious anyway. After that we spend time at the pool again and we hung with some of the Blind Guardian and Sceptic Flesh guys and their crew. Some of them are Dutch so I could speak my own language again.
Went to bed at 1:00 am and this morning I watched a soccer game. Now I am getting ready for the last show of this Latin American run for `Code Red'. Unfortunately, it is raining a lot today and it will probably stay like this the whole day. We don't like this rain but we will still give it all and celebrate heavy metal with the Mexican fans. Tomorrow morning parts of the troops are flying to Canada and the rest will leave later that day to fly a different route.
MEXICO METAL FEST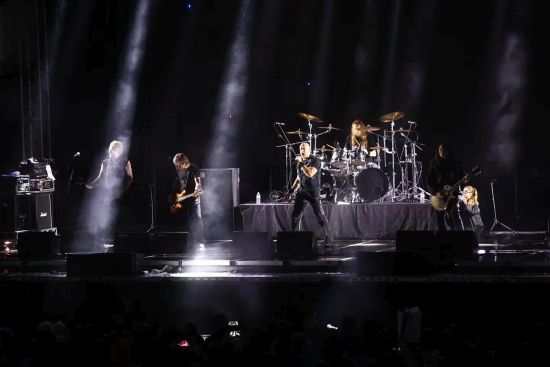 Crew gets picked up at 11 and the band gets picked up at 15 and we drive to the festival during the rain. Can you imagine laying at the pool one day and have a temperature drop and rain the next day? We get to the festival and we find our backstage tent easy and we have some drinks and some food. We walk to the stage to see what is going on. Even when it rains it is crowded and people are going crazy for the bands that play. I watch one band and then go back to the dressing room.
A few minutes later I welcome a dear friend of mine Eric de Haas. We have been friends since the early nineties and although he lives in Brazil since the 80s, we kept in contact over the years. We take some pics, talk a bit and have 1 or 2 beers. Then it is getting time to get to the stage.
It is a short walk and unfortunately there are some technical difficulties. The LED screen isn't working. I see technicians working on it but they can't fix it. Our sound engineer has some problems too that will make him work the whole show to get the sound where he wants it to be. We start the intro and we get on the stage. First thing we notice is that the place is packed and the second thing we notice is how dedicated the people are. The third thing we notice is the rain which is soft at the beginning but it makes our guitars wet and slippery. We go to the front anyway. If the fans can stand the rain, then we too.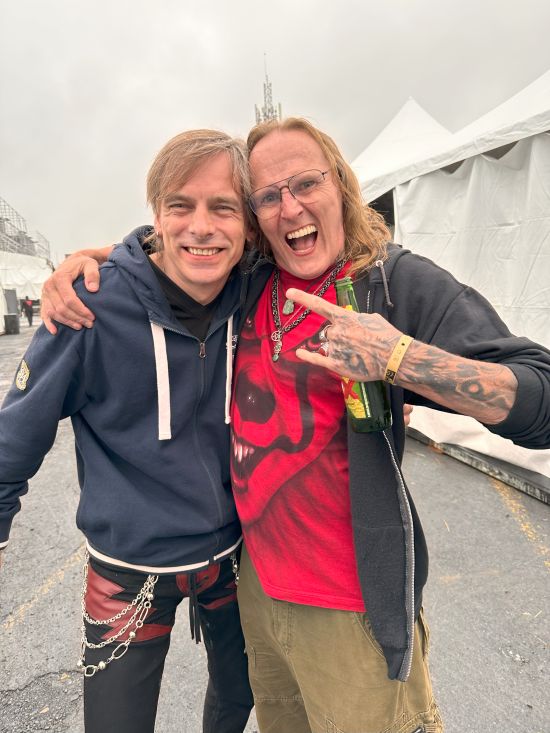 PRIMAL FEAR – THE GIG
We play a shorter set today than during the tour as we play a festival and we have less time. Most bands are way heavier than we are and we play ,,Fighting the Darkness" which is kind of ballad like. The people love it. At the end of the show, we take our bow and throw some picks in the audience. And there it is the last show of this tour is done. We go to the dressing room and talk a bit about the show and get a drink. I talk a bit with Johan from Blind Guardian, he is Dutch like me and Eric.
I change clothes and then go back to the stage again to take some pics with fans who are waiting at the fence, then I watch Tryptikon and after that I chat with the guitar player of Mastodon. Later I watch their show with the girls from Cryptic Death and the fellas from Gojira. Then realizing it is time to get my shuttle back to the hotel.
This morning I woke up at 6 and took a shower and breakfast. 7:30 am was lobby call and we had 40 minutes to drive to the airport. Did the usual security check and stuff, all necessary but after so many flights the last three weeks I am fed up with it, haha. I am flying over the USA at the moment, descending to Toronto. There we have a layover for 2,5 hours. Then Michele will fly to Rome, Cedric to Zurich and Alex Beyrodt and me will fly to Frankfurt.
WAITING FOR OUR NEXT FLIGHT
Entering Canada was supposed to be easy. Of course, we all had to get a visa just one day before. That all worked well. Then you get to Toronto and you are only in transit. You follow the way to the connections and then there is something we didn't have in whole Latin America. We are doing a security check again (of course we are used to it now).
Then there is a lady, well she is not friendly at all, she is rude, she yells at people. Nothing goes forward and we are all getting a bit pissed. She then talks to her co-workers about how there is not enough people and that she will be alone if they don't stay. Well, that was quite an impression of the Canadian immigration service… we had a visa for 7 dollars to witness a yelling lady complaining about her work and to sit 1,5 hours at the burger joint waiting for our next flight… come on Canada you can do better than that.
We boarded the plane and I have the great luck to have a loud child in front of me. Thank God I have great headphones. Noise cancelling activated and watching my series or typing a few lines for you people.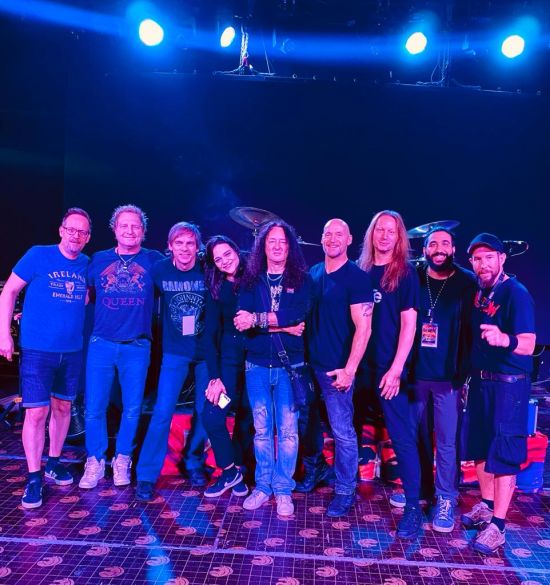 THE END….
The last flight turned out to be easy. Waited shortly for my luggage, all my luggage came, WHOA!!! The other guys were not so lucky. Guitars stayed in Mexico City and Toronto. This is taken care of and should be solved within the next days.
So that is it, Latin America done and dusted. Besides some shows with other bands this year the next adventure will be Japan in January and February 2024.
See you then!
All photos taken by / provided by Alex Jansen