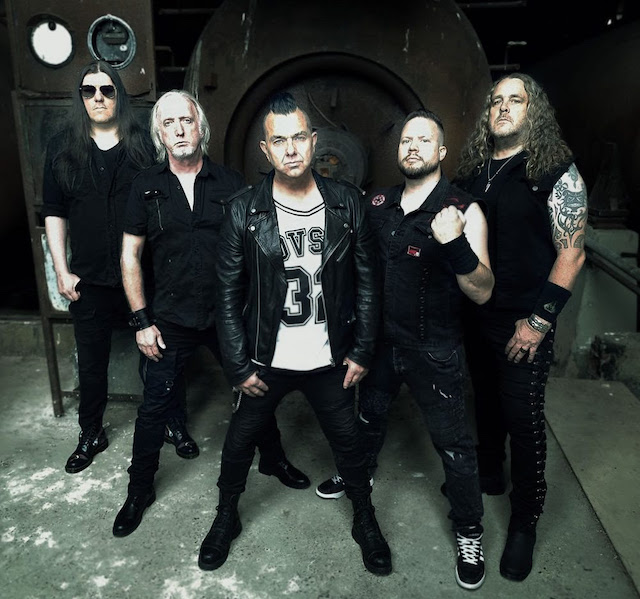 Interview | Martyr – 40 years of Dutch Steel
Guitarist Rick Bouwman & Drummer Rick Valcon
The Utrecht [NL] based band Martyr celebrate its 40th anniversary this year. And they celebrate that with a new and kick ass heavy metal record, called `Planet MetalHead' [release date: 24 February, 2022]. After 40 years, and with an injection of some new band members, these men are hungry as young dogs. Time for HeadBangers LifeStyle's Raymond Helebrand to catch up with guitarist Rick Bouwman [RB] and drummer Rick Valcon [RV].
40 YEAR ANNIVERSARY
Hi guys, first of all how are you?
RB: ,,Good and healthy. I think that's the most important, especially in these times. Given the number of activities we were fortunately able to pay a lot of attention to our new album during this long period of silence. `Planet MetalHead' is now ready and will be released later this month. And you know, that has brought us a lot in the sense that we normally perform quite a lot during the year. And when we play a lot, it often makes it more difficult for us as a band to really focus on the song writing, the recording process and such. Since we now had a lot more time for it, we really could refine things to perfection. Because of that I think we were able to deliver a much better product than if there might not have been Covid and we had been busy with playing live. In that sense it has certainly brought us a lot of positives. Yes of course you want to be on stage as a band, that was the unfortunate side of not being able to do so, but we have every hope that Martyr will be able to be back on stage soon to present this record live in a very beautiful way.''
Martyr was founded in 1982, which means that you can celebrate the 40th anniversary this year. Are you going to celebrate that in other ways as well besides the new release?
RB: ,,The release party is planned on March 12th, while the release of `Planet MetalHead' is on February 24th. It is deliberately planned that way, looking ahead, a long time ago to hopefully the end of the pandemic. It gives hope that this day may be coming soon, but we still have our fingers crossed for March 12th of course. Anyway, the date is still there and after that it's mainly playing live as much as we can. With a new set, a new stage show and with new energy we want to get people's attention to our new album as much as possible.''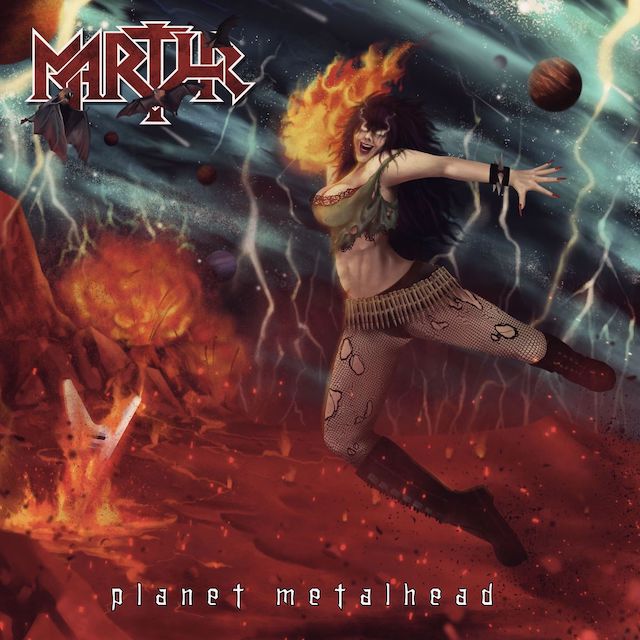 `Planet MetalHead' is recorded in the home studios of the bandmembers and Rick Valcon, you put it all together. Was that a big challenge and above all time consuming?
RV: ,,Well, I do produce more albums, so this is definitely not my first album. I'm someone who works in a modern way but at the same time also a bit old school. I always take a lot of time, working on an album. Okay, normally not one and a half years, but also not two weeks or so. If the band hadn't been as aligned as they were, it probably would have been more of a challenge. When we got to the mastering process, it was usually no more than two or three versions until the end result was approved by all of us.''
OLD SCHOOL AND NEW SCHOOL
What struck me most is that `Planet Metalhead' has a nice overall sound, something that is often difficult to achieve when everyone provides the tracks for themselves.
RV: ,,Right, and following that, because I've never done that with another band, but what's super cool is that every song was done separately. Finished from start to finish. Including the mastering. When ,,No Time For Goodbyes" came out as a video clip, the second track for the album wasn't even ready yet.''
RB: ,,Indeed, as Rick V says, one song would always be completed before moving on to the next. Including mixing and mastering. At the very end we did have a look at all the masters again to go through the whole in terms of sound and levels and everything. But basically, they were recorded, mixed, mastered and finalized one by one.''
RV: ,,And that's really old school. I pointed that out at the time. For example, if you pick up an old album from Queen, you sometimes have three songs in a row that sound like they come from different albums. A completely different sound and a different concept and that is of course very cool, if you somehow manage to glue it together. Because that keeps the whole album interesting. Not that you're listening to the exact same sound for nine songs. And I also indicated in advance to the other band members that I never wanted to cut and paste in the songs. Everything is played from start to finish, so you don't feel like you've heard it after one verse and chorus.''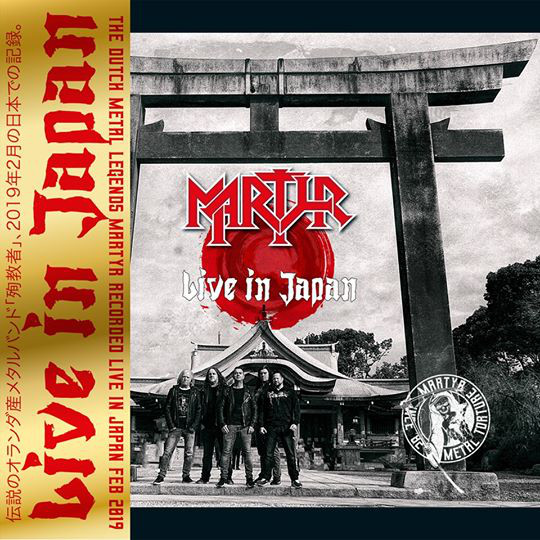 Rick Valcon produced this album and also the `Live In Japan' record as opposed to `You Are Next' for example.
RB: ,,That was with Jack Nobelen in Studio Jacks Place in Belgium. But the advantage now is that during this period we were able to finish the songs one by one. Continuous feedback back and forth from Rick V, with the producer hat on and not the drummers hat. Looking really critically at the material and also saying to me, for example: 'hey Bouwman, that guitar needs to be tighter'. Then I did things over again. Normally you have to do a trip to Belgium, be an hour in the studio to do that. Which also entails additional costs, which makes you think rather, it's okay, it's done. Now it was that 99.9% percent was good, but I would still like to go for that 100%. And now we had that opportunity and went for it until Valcon said it was okay.''
That is a very luxurious way of recording when you look at it this way, right?
RB: ,,Yes, it is. Absolute luxury.''
RV: ,,That's also the reason why, when bands come over to record with me, I never charge an hourly rate, but a total rate or a rate per song. Nobody has to come into the studio with me and be nervous that the clock is ticking.''
RB: ,,We do indeed think that those dots are on the I. The details, the space, the time, which we also consciously took to take a close look at everything. It all contributed that we are completely satisfied with `Planet Metalhead' as an end result.''
A PURE HEAVY METAL ALBUM
As I wrote in my review, I hear influences from acts like Manowar and Judas Priest but certainly also driving thrash riffs that I mainly link to a band like Sacred Reich? Can you find yourself in that?
RB: ,,Most certainly, because I think this is a pure heavy metal album and that was the intention of it. When we started thinking about the next album after the previous record at the end of 2016, we consciously wanted to make it even more metal. A bit more in the style of the bands you actually mentioned. And after some band changes, which turned out to be quite beneficial. The people we have in the band now are completely in line with what we had in mind for the new work. If you also look at the titles of the songs, that just speaks pure metal. The title of the album is `Planet Metalhead', the song ,,Demon Hammer'', ,,Raise Your Horns, Unite'', ,,Metal Overdrive'', how heavy metal do you want it to be? That was exactly the intention. At the time we were working on it, and even during ,,No Time For Goodbye's'', we realized: 'Yes, we definitely have something on our hands here.'''
Is the writing process very different from the 80s, or do you follow the same processes?
RB: ,,We stopped writing and jamming in a rehearsal room for a while. The way we have been writing for a number of years now, I think about 10 years already, is mainly to draw up the global idea, usually Rop [van Haren] and I, and then take it to the other band members. Like, this is the basic idea with some click tracks or a drum rhythm, but we do want the band members to shine their light on it, because they approach things differently, from their instruments, anyway. And as soon as those tracks come back to us, we can also get new ideas to make the songs even better and to develop them further.''
RV: ,,Indeed, if I get a basic track with some drum computer on it, everything starts working for me right away.''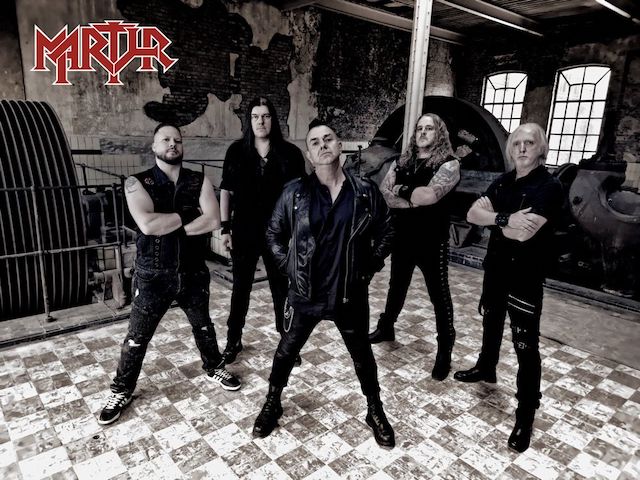 With the last record you had the opportunity to play in Japan. How was that for you and are there plans to return to the Land Of The Rising Sun again?
RB: ,,The first time in Japan was in 2017, that was after `You Are Next', which was also released in Japan and our label there Edge Tracks wanted to release it, but said we had to come over and play. Of course, you can't say no to that and that's what we did then, together with the Japanese band Saber Tiger. That was of course fantastic. Especially because Japan has always been a dream for me, ever since I started with this band in 1982 and luckily that has come true.
Then we had some band changes, Vinnie Wassink, Geoffrey Maas and Rick Valcon joined us. And then pretty soon we were asked again to do True Thrash Fest in Osaka and another festival, where `Live In Japan' was also recorded. In 2020, just before the pandemic broke out, two American bands had cancelled the True Thrash Fest and we were called by the Japanese organizer and our label boss in Japan asking if we wanted to fill in the spot. After a short consultation within the band, we took a quick trip to Japan. Departure on Friday and return to the Netherlands on Monday.''
RV: ,,Yes indeed, we heard it on Monday and on Wednesday we gave the green light. And that is another example of a band with the same ambitions.''
RB: ,,I also have to say, and Valcon can confirm that, that playing in Japan is an incredibly cool experience. The people, the food, the drinks. The culture around it, the madness of the Japanese, the dedication when they are in the hall and a band is playing for them. That is so respected and appreciated. That's immense, something you take with you for the rest of your life.''
Will `Planet Metalhead' also be released in Japan?
RB: ,,Yes, Rock Stack Records is releasing it. A nice Japanese version with a nice OBI around it. In addition, PT78 Records will release the record worldwide. But we also managed to secure some licensing deals with this record, working with four labels in other continents in South America, North America, China and Japan. Which means that the record will also be more easily available in those continents than via the often more expensive import method. We also have a limited fan package release, which will be released exclusively by No Dust Records.''
NO MORE CONCESSIONS
Which original 1982 band members are still in the band today?
RB: That would be Rop and I. I started with Rop in 1982, but the moment we got a deal for `For The Universe', and we had already done all the demos with Rop, including the recordings for the first album. Just before the release, however, Rop left the band and Gerard Vergouw re-recorded all vocal tracks before the release. But since the reunion [2001], Rop is back and with the arrival of Geoffrey Maas, Vinnie Wassink and Rick Valcon we have received a whole new energy and breath of fresh air in the band.''
Has the band ever had to make musical concessions due to pressure from media or record companies?
RB: ,,Once, in the 80s, after we had already made the first two records, we became fairly well known, got management and it was looked into if we could be signed to a bigger record label, which eventually became Polydor. Then came the request from the label that they wanted us to write a hit. That was when Bon Jovi and Europe had big hits of course, we kind of drifted in a direction to do something different than what we were used to. Not necessarily our own taste. And I think that was the mistake, because what came out was not our style, and in the end, Polydor didn't sign us either. That was actually the moment when I decided that I would never do that again, so never again, under pressure from something or someone to write anything other than what I think is awesome.''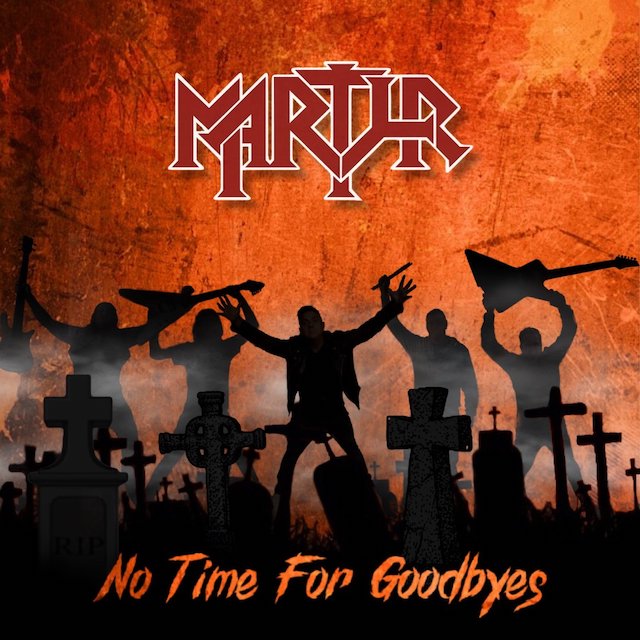 Which songs are your personal favourites on the new album?
RV: ,,I'll put it differently and then I don't speak for myself. If you take a look at the reactions of people who have already heard the album, you get a response from people. And everyone likes other songs on the album. So it's not like everyone chooses one or two songs, but really very diverse. For me it kind of depends on the day of the week, but ,,No Time For Goodbye's'' is high on my personal list.''
RB: ,,That's the nice thing about this album, that's what I hear and I think that's what makes the album strong. That everyone has their own favourite, which I think indicates that these songs are strong. But everyone in the band also has their own favourite tracks. And during rehearsal we sometimes look at each other like, this was the best track only to conclude that same thing after the next song. So as far as we are concerned: 'all killers and no fillers'.''
FUTURE PLANS
Making plans is currently difficult due to the pandemic, but nevertheless are there some tour plans?
RB: ,,It's extremely difficult to plan anything. We have the release coming up, where we have already looked ahead to see if some things should be possible again. March 12th is the release show, that is already fingers crossed whether that can continue. Shows are rescheduled 3-4 times and then you get to dates when things start to overlap with other shows. It's all a nightmare right now. People are also hesitant to buy tickets, because they don't know it any more either. It is difficult for us, the audience, but also the venues and promoters. So yes, there are already some things confirmed and a part in the planning that has not yet been published. It is also difficult outside Europe at the moment and we just have to wait and see what is possible and allowed. For now, it is mainly about taking the opportunity to expand our network in, for example, South America. We have now also released the older records there, to get our feet on the ground there. In any case, we will not sit and wait, because that is not how it works for us.''
In conclusion, I would like to ask you what else you would like to share with our readers?
RV: Come see!!!! In my four years in the band, with all due respect to the records, but live we're even fatter than on the records. Live we go wild and we have never had to play for the Jazz Police!! So come and see.''
RB: ,,Indeed, we always go for it 100% and additionally I would like to say that besides the come and look and beyond the new record, we are 40 years into it, our anniversary year, so to speak and I am extremely happy with all the support we get from our fans. It's wonderful to see at the live gigs, that 20-year-old kids, who really don't know us from the 80s, come to watch and get to know the band and then also discover the older records and thus welcome new fans. I am very grateful for that and I love to see that every time again.''
Thanks for your time and good luck with your new release!!
RB & RV: ,,Thank you too and hopefully see you soon at a concert with a pot of beer.''
If you have become curious about the record, join the Martyr Militia fan club group on facebook. There will be an exclusive fan club member online release preview on Saturday 12 February at 4PM CET.
About
Classic metal band from The Netherlands and active since 1982.
Genre
Classic Metal
Website
http://www.martyronline.nl
Social
Related links
Tags