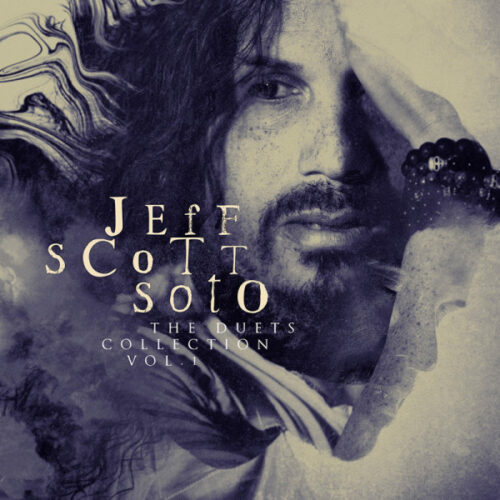 Review | Jeff Scott Soto-The Duets Collection, Vol. 1
Frontiers Music srl
Ever since he made his first appearance singing for Yngwie Malmsteen's on his first albums 'Yngwie Malmsteen's Rising Force' in 1984 and 'Marching Out' in 1985 slowly but surely the name of Jeff Scott Soto has become a household and much respected name in our scene. The singer has by now built up a discography that is quite immense being involved with the likes of Axel Rudi Pell, Journey, Takara, Talisman, W.E.T., Soul Sirkus, Eyes, Trans-Siberian Orchestra, Humanimal and more recently the progressive metal band Sons Of Apollo. And there were always solo-albums under his own name plus the band Soto. He also was part of the soundtrack for the movie 'Rock Star' (starring Mark Wahlberg). And did Jeff ever disappoint? Not as far as I can see or remember.
PHONE BOOK
The man has tackled many genres in rock with such an ease that it seems like that you can open a phone book and he will sing from that as well. Jeff developed his own talent and nurtured it well. Never you would read stories that he was involved with incidents or drugs. He followed his own path and now he has taken a long hard look at his career and came up with the idea to re-record a bunch of old songs and share them with colleague singers to give those tracks a new jacket, a new life. I am not sure if the singers that have helped him re-record the songs were all his own choice as all vocalists are in one way or another connected to the record label that is releasing this record as well. But maybe that is just a coincidence.
THE MUSICIANS
Jeff chose his own instrumentalists to work with. Soto-drummer Edu Cominato was a very obvious choice. On bass we have Tony Dickinson and on guitars we find his old pal Howie Simon plus Jorge Salan and Leo Mancin while Jeff himself provided keyboards.
THE SINGERS
Surely no amateurs where selected to accompany Jeff on this trip through memory lane. Nathan James (Inglorious), Deen Castronovo (Revolution Saints), Eric Martin (Mr. Big), Erik Martensson (W.E.T./Eclipse), Johnny Gioeli (Hardline/Axel Rudi Pell), Renan Zonta (Electric Mob), Dino Jelusick (Animal Drive and now also with Whitesnake), Alirio Netto (Shaman), Mats Leven (ex-Candlemass), BJ (Spektra/Soto) and Russell Allen (Symphony X) all in one way or another blend well together with the oh so recognisable sound that Jeff has provided for so many years.
THE SONGS
The selection that has been made in the repertoire of Jeff Scott Soto is nothing to be sneezed at. We are dealing with tracks from Jeff's adventures with Yngwie Malmsteen, Eyes, Talisman, Humanimal and Soul Sirkus while opener ,,Livin' The Life'' is from the 'Rock Star' soundtrack. Add to that several songs from his solo-albums and you have a compilation that is strong and of very consistent quality covering almost four decades of Jeff's music.
,,Calling All Girls'', ,,Colour My XTC'', ,,Coming Home'', ,,Again 2 B Found'', ,,Believe In Me'', ,,I'll Be Waiting'', ,,Warrior'', ,,Mysterious'', ,,Holding On'' and ,,Don't Let It End'', it hardly gets any better does it? And the thing is that there is some much more to choose from, as there are plenty of other songs in Jeff's vault. But then the album title does say Vol. 1 so maybe a second volume might be coming. Until then enjoy this melodic heavy rock trip through the career of one of the best singers this business has to offer.