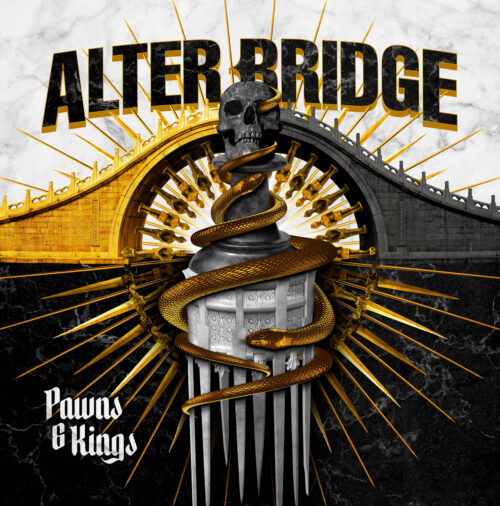 Review | Alter Bridge – Pawns & Kings
Napalm Records
Do not get me started on Alter Bridge, seeing the fact that this is one of the greatest, highly underrated rock/metal bands of this time. Featuring one of the best rock vocalists ever and also a rather notorious and very inventive guitar player and composer. Myles Kennedy released a superb solo album last year 'The Ides Of March', one of my favourite rock albums of all times, and now Alter Bridge finally, after three years, release their seventh studio album called 'Pawns & Kings'. To cut to the chase and stop beating around the bush I can tell you that 'Pawns & Kings' is Alter Bridge's best album by far as it ascends to a superior musical level.
IMMACULATE
The album opens with the deliciously heavy ,,This Is War" setting the tone of 'Pawns & Kings' with a head- slamming tempo, a ferocious almost thrashy riff, utterly amazing vocals of Kennedy, also a superbly almost catchy chorus and a formidable short solo by Mark Tremonti. What a glorious way to start an album! Follow up ,,Dead Among The Living" starts with pounding drums and a brutal, almost Pantera-like Tremonti riff, while it further on evolves into a classic Alter Bridge track with a great melodic chorus. This one will be a future live staple for sure!
,,Silver Tongue" being the first official single, features a ferocious riff and is really a super groovy track and check out the lyrics of this riff monster. ,,Sin After Sin" clocks in over six minutes and kicks off with ominous drums and a brilliant Tremonti hook/riff, after one minute the song goes tranquil and the voice of Kennedy enters. His vocal performance here is almost immaculate and the song, being a power metal ballad, is one of the highlights of the album, ending with a great guitar solo.
MUSICAL DIVERSITY
Next up is ,,Stay" and features Mark Tremonti on lead vocals. A real catchy hard rocker with a very bright guitar line. ,,Holiday" is the shortest song (3:56) and this is again a pure hard rocking track with a very addictive chorus followed by another Alter Bridge milestone, being ,,Fable Of The Silent Son". It is probably one of the best AB tracks ever and it stretches past the eight-minute mark featuring lots of musical diversity and extremely well song writing.
A twelve-string guitar and the almost whispering, emotional vocals of Kennedy open this impressive track, filled with lots of beautiful melody lines, real heavy passages and head banging riffs. Vocally Kennedy is almost immaculate here and Tremonti does the rest with his awesome guitar playing. Just check out the soaring, speedy guitar solo at the 5:47 mark, just impressive. ,,Season Of Promise" stands out due to the very melodic, flashy, high pitched guitar solo, while ,,Last Man Standing", also featuring an awesome Tremonti solo, is again rather heavy with a magical chorus.
MILESTONE
Last one up is the title track, another epic Alter Bridge track featuring a superb hook, an excellent guitar solo and really anthemic lyrics. What a way to end an album as the song ,,Pawns & Kings" will also become a milestone in the career of this formidable band. Alter Bridge is back with a vengeance and with their best album so far. This CD will not leave my CD-player for months to come! Highly recommended as 'Pawns & Kings' is The hard rock/metal of the year 2022 for me!!
Release date: 14 October 2022