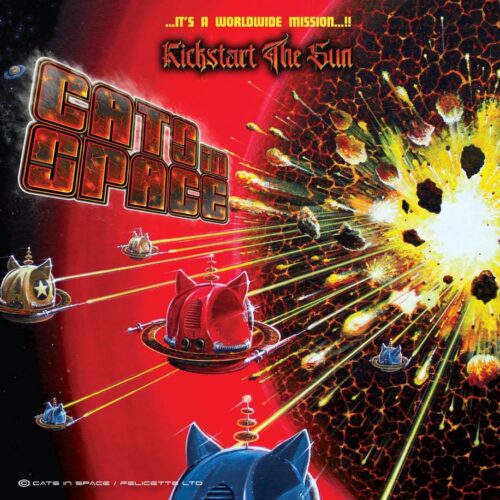 Review | Cats In Space – Kickstart The Sun
Harmony Factory
With recruiting singer Damien Edwards UK band Cats In Space really hit the jackpot. His first performance on their fourth studio record 'Atlantis' was already impressive but he also gave the songs on 'Diamonds The Best Of', a 2021 compilation album with newly recorded vocals, something like a new dimension.
NEW HEIGHTS
The level of this band formed some seven years ago by guitarist/producer and main songwriter Greg Hart and drummer Steevi Bacon (who does a big part of the artwork for the albums) has been high from day one. Older albums like 'Scarecrow', 'Too Many Gods', 'Day Trip To Narnia' and the already mentioned opus 'Atlantis' are of a great standard but on 'Kickstart The Sun' the six piece band reaches new heights.
Cats In Space is being seen as a rock band with progressive, pomp, pop and classic influences, varying from Uriah Heep, Pink Floyd to Queen and far beyond. When you have followed the career of these lads you must come the conclusion that all these influences have been woven into a richly flavoured sound and style that is completely their own. For the vocal arrangements alone, I would buy their albums and now with the mighty Damien Edwards behind the microphone nothing seems to be impossible and the possibilities of going where hardly any other group has dared to go before seem to be endless.
MUSICAL
While listening to 'Kickstart The Sun' with its fifteen all killers no fillers songs you sometimes have to feeling you are listening to a heavy/hard rock musical. The music is playful, the mood swings endless, the vocal arrangements extremely adventurous, surrounded by crazy keyboard colouring (courtesy of Andy Stewart) and heavy guitars. Add to that the fact that Cats In Space have broadened their musical horizon by adding some brass and horn sections (carefully woven into the title track), strings (,,Last Dance Saloon'') and pedal steel guitar (listen to ,,Bootleg Bandoleros'') into the sound and you are dealing with an overwhelming album with a length of some 63 minutes that is intriguing from start to finish.
In good Cats In Space tradition the artwork of the album (drummer Steevi Bacon is largely responsible for that) is the icing on the cake. Bon appetite with this musical monster. Let each individual song capture and impress you as for me I just can't point out an absolute favourite which speaks for the consistency of the album.