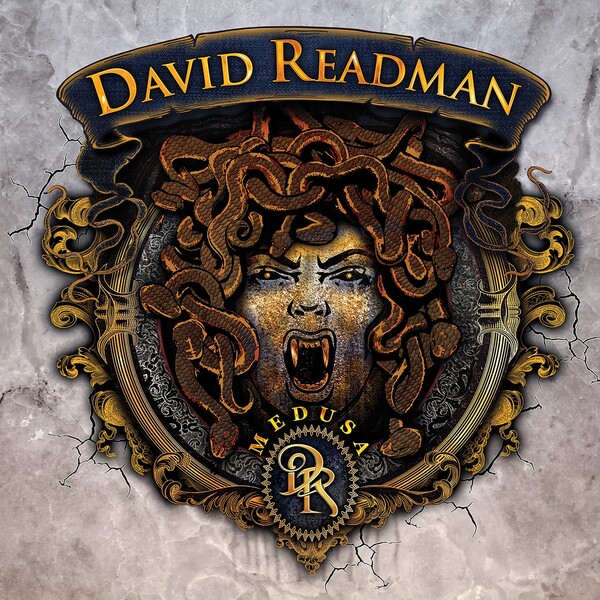 Review | David Readman – Medusa
Independent Release
English singer David Readman can look back on a rich career being involved with bands like Voodoo Circle, Pendulum Of Fortune, Tank, Pink Cream 69, Almanac and more recently Black Eye. That 'Black Eye' album was released earlier this year and was another Frontiers project where David's vocal capacities were combined with a bunch of experienced Italian musicians including guitarist/producer Aldo Lonobile. 'Black Eye' was a heavy and pretty decent album but in my humble opinion the focus was too much on the 'heavy' side of David's voice. The man is an allrounder who can sing any rock genre but in this case several elements in his voice (read the more melodic part in particular) were a bit ignored. That is why 'Black Eye' for me ended up being a 'one sided' album.
GO FUND ME PAGE
For the recordings, mix and artwork of 'Medusa' David started a go fund me page. People could be part of the album financing the cost of an album which is certainly not cheap these days. Maybe David planned this from the very start but I find it actually unbelievable that a musician of the caliber of David Readman has to start a go fund me page to record his second solo-album. Have several companies been asleep on the job? It sure looks that way.
BINDING FACTOR
It is obvious that through his participation in the above-mentioned bands David has a 'black book' with addresses and phone numbers of many musicians. Living in The Netherlands (and before that many years in Germany) it was not so difficult to get hold of his contacts helping him out with guitars, keyboards, bass and drums. But with an album with so many guests it is not the easiest thing to create a 'unity', a common factor that makes an album sound like a real band effort. It is obvious that the voice of David is the binding and unifying factor on 'Medusa' and it is very pleasing to hear that this album showcases all the rich elements in his voice.
Melodic, dramatic, rough and ready, heavy, fast or even slow paced, it is all on offer on 'Medusa'. Crafty guitar work coming from people like Roland Grapow, Laki Razagas or Simone Mularoni, hefty bass lines by Roxana Herrera, uplifting drumming by Bodo Schopf or some scorching keyboards. Just take your pick, as not one of the ten songs on 'Medusa' has any weak or even doubtful moments. This is an album that combines classic heavy rock with a spark of metal and plenty of melodic moments. By the way, the musician guest list is quite extensive, as David also used a bunch of Dutch based heavy rockers.
SHOWCASE
If you are familiar with bands like Voodoo Circle, Pink Cream 69 and Pendulum Of Fortune I am convinced that 'Medusa' will quickly grab you by the short and curlies with heavy rockers such ,,Shelter From The Storm'', ,,Mary Jane'' (with mad man guitar antics) or ,,Madame Medusa'' (where David performs a duet with Jessica Conte). But also a song like ,,Summer Wine'' has a certain 'charm'. The song that has done it for me is ,,King Who Lost His Throne'', a superb power ballad with acoustic elements, killer riffs and astonishing singing by the master.
'Medusa' is a showcase of what David Readman can do when he is standing behind a microphone, armed with the right song and being accompanied by talented musicians. For more information go to the website davidreadman.com where you can look at some videos and there is also a link where you can order the album that is also available on Spotify. I believe there will also be a limited vinyl issue so if you miss out do not say we did not tell you where to go and what to do! On this album the true musical identity of David Readman is absolutely unveiled!