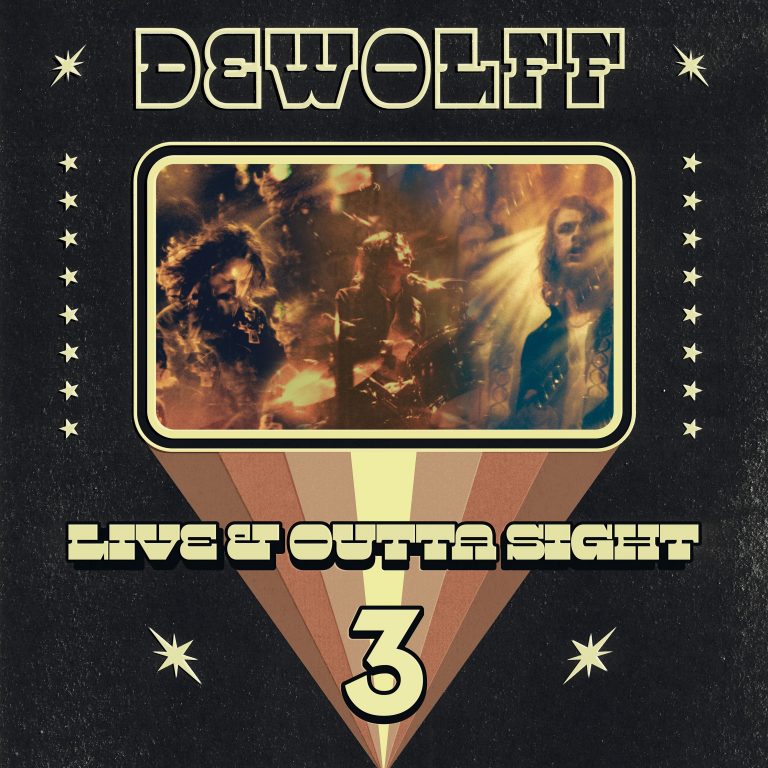 Review | DeWolff – Live & Outta Sight 3
Electrosaurus Records / Suburban
This year I had the pleasure of seeing/hearing the notorious DeWolff at the Pinkpop Festival. That gig was really impressive and again these guys proved/showed that DeWolff is one of the best retro psychedelic rock bands on this planet. 'Live & Outta Sight 3" features fifteen tracks. Seven from DeWolff's last 2023 release 'Love, Death & In Between'- recorded in Europe (Amsterdam, Paris, Nijmegen, Utrecht, Barcelona and Madrid) between January and March 2023.
ROLLERCOASTER RIDE
Their previous 'Live & Outta Sight 2' (2019) was a fantastic record and I called it a MUST have for fans of flower power rock/blues jams. I can recommend this new live album again. 'Live & Outta Sight 3' is a musical rollercoaster ride packed with a mix of blues, rock, funk, gospel, southern rock, and psychedelic rock.
DEWOLFF DIMENSION
This album also features a lot of horns and female background singers, which add another dimension to the music of DeWolff for sure. This live extravaganza kicks off with the southern rock song ,,Night Train" and from that moment on, you as a listener are drawn into the DeWolff dimension. Follow up ,,Heart Stopping Kinda Show", also from their last album, really reminds me of the good old Black Crowes as Pablo's voice has obvious characteristics/resemblances from the throat of Chris Robinson.
BURST WITH ENERGY
The setlist is really second to none. Filled with epic and majestic tracks and the three guys from DeWolff and the rest of the band play flawless. Long tracks, with lots of improvisation, such as ,,Nothing's Changing" ('Tascam Tapes'), ,,Jacky Go To Sleep" ('Love, Death & In Between') burst with energy and are really a true pleasure to listen to.
PIÈCE DE RÉSISTANCE
The absolute highlight of this awesome, legendary album is the final song, which is of course ,,Rosita", the pinnacle of their previous album, and a real pièce de résistance! ,,Rosita", clocks in over 23 minutes here and it is a masterful psychedelic rock jam which you should listen to at maximum volume. A flower power-like musical monster with elements from notorious songs like ,,With A Little Help From My Friends" (the Joe Cocker version that is…) or ,,Seeing Things" from the aforementioned Black Crowes.
Need I say more? No, 'Live & Outta Sight 3' again is a must have album for everyone who likes more than excellent rock music. There will also be a limited coloured vinyl edition, featuring three colours per album: slightly gold LP1, dirty pink LP2 and safari for LP3.  
Release date: 6 October 2023