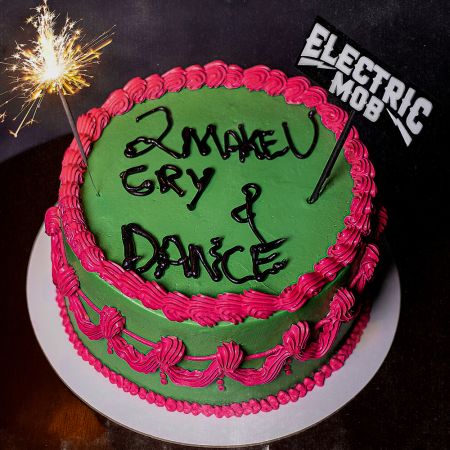 Review | Electric Mob – 2 Make U Cry & Dance
Frontiers Music srl
With the album 'Discharge' Brazilian quartet Electric Mob delivered one of the best debut classic rock albums of 2020. Comparisons with the legendary US heavy rock band Badlands were made. Not in the least because of the stunning vocals of Renan Zonta whose reach and sound reminded a lot of people of Badlands-vocalist Ray Gillen, who died at such a young age. It has taken almost three years for the Brazilians to present their second album '2 Make U Cry & Dance'.
EXPLOITATION
I had hoped that their record label would really work with this band, as the album was pretty classy. As has been almost customary at the label once they hear a great singer he gets paired up with several other bands or projects, making sure maximum exploitation is guaranteed. Zonta appeared on the album 'We Are The Night' by Magnus Karlsson Freefall. He also teamed up with fellow country man Nando Fernandes on the Brother Against Brother project. To top it all Renan was matched with Brad Gillis (Night Ranger), David Huff (Giant) and Billy Sheehan in the formation Skills. In a way understandable I guess as Zonta is a real good singer. But did all his other activities hurt or influence the career of Electric Mob? Whoever has the answer let him or her speak up.
SECOND SHOT
With their new album Electric Mob is up for their second shot. Having heard the album multiple times, I still have some trouble digesting it as a whole. Was the first album straight forward and based on classic rock, there are some changes to be heard. A track like ,,Thy Kingdom Come'' sounds more like Mr. Big in my ears and there are more songs where Electric Mob engage and tangle with a more playful style. That takes time to get used to. The surprise that the first album was (and still is) is not always there now. Having said that, again the singing of Zonta is second to none and the production of the album is punchy and in your face. Especially ,,Love Cage'' is something like a real rock explosion on all cylinders and there are several other strong moments.
But as a whole debut 'Discharge' did more for me as that album showed more content in the song writing department. This album has a few lows (not many though) but makes that up with that immaculate total sound. I hope that Electric Mob get the chance to really grow in the next year or two. But something tells me that Renan Zonta will appear multiple times this year on other Frontiers projects and that Electric Mob will have to play second fiddle….
Release date: 27 January 2023