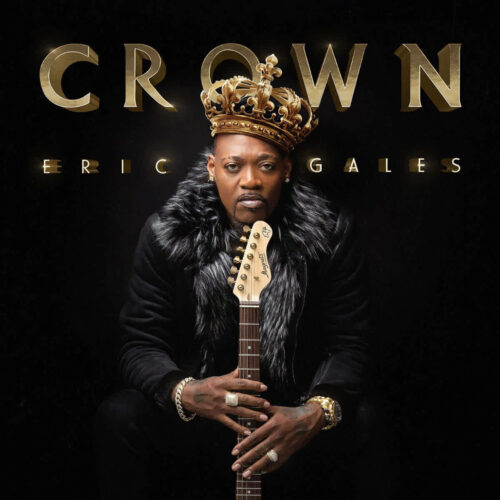 Review | Eric Gales – Crown
Provogue Records / MLG
This album is meant to be the 'Crown' on the career of guitarist/vocalist Eric Gales. His career has been a turbulent one at times but above all nobody ever questioned the musical talent of the man, even when times were tough and his career seemed to be hanging by a thread.
JOE BONAMASSA
For his latest album Eric Gales has teamed up with his friend Joe Bonamassa. Both musicians started out at a young age and both were considered as huge talents that were going to set the rock world on fire. But there where the career of Bonamassa was carefully being nourished and eventually led him to be a leading force in the rock and blues community, the path that Eric Gales took was bumpy to say the least.
With Joe's involvement as a writer and producer, plus adding some rhythm guitar to the proceedings Eric Gales hopes that 'Crown' will put his name on the map more permanently. I am not sure if the cover of this album really helps as we see Eric dressed in bling bling and with a golden crown on his head. I don't really give a shit about appearances but a first glance at the cover might give you the impression that you a dealing with an L.A. rapper instead of a blues rocker with a guitar that lets it rip. But what about the musical content of 'Crown'?
CONTEMPORARY MUSIC
With 16 songs clocking some 64 minutes all together Gales and his entourage have been in a productive mood. That is for sure. 'Crown' is by far the most contemporary album in the career of Eric Gales until now. He flirts with several musical styles varying from rock, blues rock, some funk and a whole lotta soul. The song material has been written mainly by Bonamassa in cooperation with Eric Gales, Tom Hambridge and co-producer Josh Smith. And you can hear on several occasions that Joe Bonamassa has been involved as the album features quite a lot of horn sections, giving a different flavour to the songs. Not saying that 'Crown' is sounding as a Bonamassa album, but the input of Joe is evident. It is something that followers of Eric Gales might have to get used to perhaps. Most of the time the formula works out quite well.
NEW SIDES
What does help is the strong sound and production and the fact that Eric Gales himself really stands out as a guitarist. We always knew that he was good on the six strings but here on this record his playing is at stages stunning and quite overwhelming. As a vocalist he also shows us some new sides to his repertoire, adding more feeling than ever. Hear him sing on the beautiful ballad called ,,Survivor'' (for me the most outstanding song on the album) or ,,I Found Her'' (a semi-acoustic ballad with a gorgeous solo).
Are all songs as good as each other? Not completely. ,,Put That Back'' is far from outstanding and also the James Brown cover ,,Take Me Just As I Am'' with Eric's wife Ladonna Gales on lead vocals is a strange one with its pure soul character. But then opener ,,Death Of Me'' is a peach, so it varies a bit.
CONCLUSION
The conclusion is that 'Crown' is by far the most versatile and best sounding album in the career of Eric Gales. His brilliance as a guitarist is once again confirmed, as a singer he has grown. On the other hand, you could also wonder what this album means for the career of Gales. Will his audience be happy with this mix of styles? Will another audience, a more contemporary audience pick this record up? Has he taken a risk by being so versatile? Whatever the consequences, Gales has taken a bit of a gamble with and on 'Crown' and it is a courageous move all together. This is an all-round album by a musician who hopes that 'Crown' will help him step up on the ladder and I think he has gambled right and 'Crown' will pay dividend.