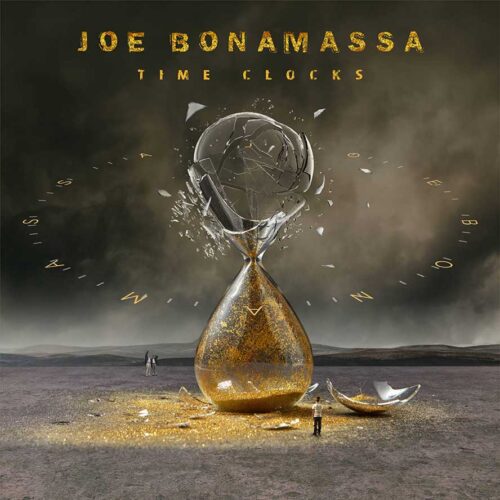 Review | Joe Bonamassa-Time Clocks
Provogue/MLG
Without any doubt Joe Bonamassa is the man with the most studio and live-releases behind his name since the release of his first solo-album in the year 2000. The work ethic of the guitarist/singer is enormous and above any discussion. 'Time Clocks' is his 17th studio-album. Add to that 17 official live-registrations plus albums with singer Beth Hart and the group Black Country Communion plus some other projects and you end up with an amount that is hard to imagine. And on top of that the man has held up a murderous tour schedule throughout the years. After the release of the first solo-album 'A New Day Yesterday' the flood gates opened big time.
OVERKILL
Many people would describe some of these records and tours as overkill. In a way that might be the case, but through his work ethic and attitude Joe has gained a great reputation amongst his growing army of fans and also other musicians. The man who started out in little sweaty clubs is now performing in big concert halls and when a new Bonamassa tour is announced people show up in large figures to see him play.
IMAGE
During the years a certain image has been carefully created. Off stage you see him walk around in a T-shirt, baseball cap and jeans. But when he goes on stage he changes into a nice suit, the hair slick and tight with sun glasses on his nose, more looking like an accountant than a modern-day rock star. It has worked out well. But all this would mean nothing if Joe did not deliver the musical goods.
ADVENTUROUS
Not so long ago I attended a 'celebration of life' for my dear brother-in-law Brett Johnson who passed away. He was a huge Bonamassa fan and I remember the times that we went to several Bonamassa concerts together at the Perth Concert Hall. On that day the Bonamassa song ,,Sloe Gin'' was played as that was Brett's favourite song.
While hearing that song, the lyrical message and the superb guitar work on that particular track I started looking forward to Joe's new album 'Time Clocks' that was being announced for an October 29 release. Joe's new album might not be so adventurous anymore as some of his older albums but it has turned into one of his most solid ones. I liked his recent releases like 'Royal Tea' and 'Redemption' but they were not as exciting perhaps as older releases like 'Sloe Gin', 'You & Me', 'The Ballad Of John Henry' or 'Black Rock'. Joe's music had become a bit contemporary, more aimed at a sophisticated and bigger audience. I guess in a way it was a logical transition and that has been continued on 'Time Clocks'.
BALANCE
What I am saying is, is that Joe Bonamassa and his long-time producer Kevin Shirley have found a right balance in the music and the sound. It has more than enough balls to keep a fan of the more raunchy rocking Joe interested but it is also sounding contemporary (or maybe I should say accessible) enough to satisfy the fans that have discovered him more recently through 'younger' releases. 'Time Clocks' balances somewhere in between.
MUSICIANS
Joe as always has top musicians around him in the studio. This time drummer Anton Fig, keyboardist Lachy Doley and bass player Steve Mackey while the female back-up singers also play a good role on some of the songs such as ,,Curtain Call'' or ,,Questions & Answers'', giving those particular tracks some more character. As a vocalist Joe has made an enormous progression throughout the years and he can now tackle ballads, heavy blues rockers or anything in between with a lot more confidence in his luggage. That shows on 'Time Clocks' that also has some clever arrangements and orchestral bits but (luckily) no horn sections.
RISKS
The question is if Joe Bonamassa and his team have taken any musical risks on 'Time Clocks'? I don't really think so as the album sounds like a logical follow-up of 'Royal Tea' and 'Redemption'. Mind you, there are some very good songs present on 'Time Clocks' but also one or two that might not have the same 'aura'. Fact is though that this album is of such a balanced quality that the general Bonamassa fan will lap this up for sure.