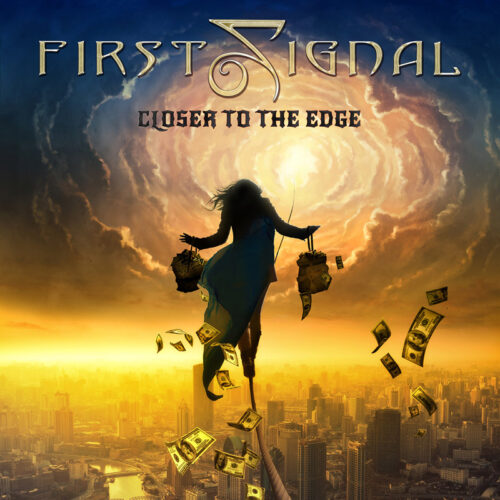 Review | First Signal – Closer To The Edge
Frontiers Music srl
The fourth chapter in the history of First Signal is ready to find its way to your melodic ears. Followers of the melodic genre know that no one less then Harem Scarem-vocalist Harry Hess is fronting this band. Although band? It is a cooperation between Hess and Swedish producer/drummer Daniel Flores who in 2016 took over from current Magnum bass player Dennis Ward as the steady factor behind the project.
FAN
I must say that I have been a fan of this project since day one. The self-titled First Signal album came out in 2010 and I thought that Ward and Hess formed a golden combination. I was surprised to find that Dennis no longer was involved and that Daniel Flores (The Murder Of My Sweet/Find Me) had taken over. But 'One Step Over The Line' (2016) and 'Line Of Fire' (2019) were (and still are) fine albums where First Signal brought us an exquisite combination of AOR/melodic rock and at times some Arena rock anthems.
That recipe has been kept intact on 'Closer To The Edge'. The record has a well-balanced mix between AOR, Arena Rock and melodic rock. The material is coming from people that were (partly) also involved with the last Find Me album and I presume that guitarist Michael Palace has lend his services to this project as well.
FOCUS
With Find Me the focus is on the singing of Robbie LaBlanc. As the latest album of that project ('Lightning In A Bottle') was in March Daniel Flores must have gone straight into First Signal as soon as the Find Me record was done and dusted. He must have been in a 'flow' as also the new First Signal is a lovely sounding album with a slightly harder edge and approach. LaBlanc and Hess are naturally different singers. If I am brutally honest, I find the new First Signal more to my taste just because it sounds 'tougher'.
On a musical level 'Closer To The Edge' follows the lead of its two predecessors to a certain extent. So people who might think that First Signal has some changes up their sleeve might want to think again. It is a very good record, no doubt about that. It ticks all the boxes you want it to tick and Harry Hess is always a joy to hear. I expect a new chapter will follow in due time with maybe some slight changes as we don't want First Signal starting to rehash themselves.
Release date: 8 April 2022