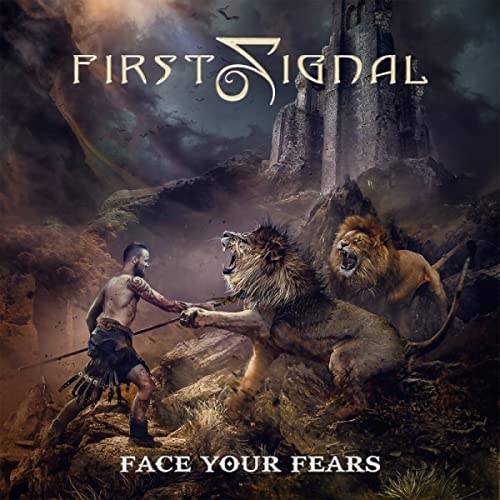 Review | First Signal – Face Your Fears
Frontiers Music srl
First Signal is a project built around the voice of Harem Scarem vocalist Harry Hess. It seems that Harry releases stuff quicker with First Signal than with this outfit. Last year we enjoyed 'Closer To The Edge', the fourth release of First Signal and early in 2023 we have 'Face Your Fears' while the last Harem Scarem album ('Change The World') hails from 2020.
BIG CHANGE
'Face Your Fears' sees a big change in the environment around the singer. The last three albums were produced by Swedish mastermind Daniel Flores and featured Michael Palace on guitar. The album also sees a big change in approach. Production was this time handled by Michele Guaitoli (also bass and guitar and the main man of Visions of Atlantis) and he involved Marco Pastorino (guitar) and Marco Andreetto (drums) with the proceedings. This change of personnel has done 'Face Your Fears' a lot of good.
FIRST SIGNAL IS MORE METAL MINDED
The eleven songs are, except for three or four of them, much more metal minded. Tracks such as ,,Unbreakable'', ,,Situation Critical'', ,,Shoot The Bullet'', ,,Dominoes'', ,,Never Be Silenced'' and the title track feature heavy guitars, are more up-tempo and are far more metal minded in comparison with songs from the previous three albums. Where Daniel Flores chose to go for a more sophisticated sound which suited Hess fine, things now have been beefed up dramatically.
Less keys, less orchestration, more aggression but always with a melodic touch. And is not so that 'Face Your Fears' completely abandons the old style featured on albums like 'Closer To The Edge', 'One Step Over The Line' or 'Line Of Fire' as the tracks ,,Always Be There'', ,,Never Gonna Let You Go'', ,,Rain For Your Roses'' and the nicely flowing ballad ,,In The Name Of Love'' are melodic songs that could have featured on either of these mentioned records.
SIMPLE CONCLUSION
We can draw a simple conclusion here: 'Face Your Fears' clearly wins on points from its three older brothers. Beefing things up has paid a big and healthy dividend. Fan of Harry Hess, Harem Scarem and First Signal? Make sure you don't miss this one!
Release date: 17 February 2023