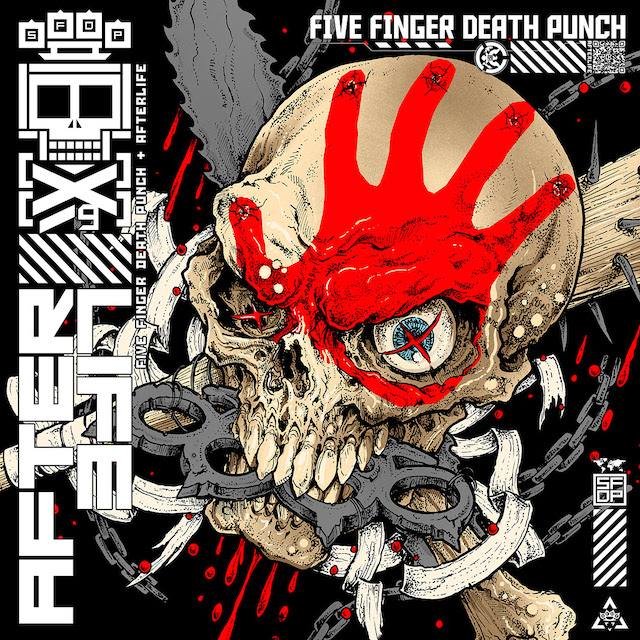 Review | Five Finger Death Punch – Afterlife
Better Noise Music
August 19th, marks the official release date of `Afterlife', the newest effort of US based rockers Five Finger Death Punch and also the ninth studio album of the band. Guitarist and founding member Zoltan Bathory says this one was his favorite record to make. Though there has been a chance in the line-up. Shredder Andy James replaced long-time second guitar player Jason Hook permanently.
What can we expect from this new release? Well, above all an album full of well-produced and top-performed songs in the style Five Finger Death Punch has become known for. Sometimes melodic, with an edge of NU-Metal and sometimes full throttle heavy metal of the highest ranks.
PLEASING THE FANS
In terms of style, little has changed in their success formula and the fans get exactly what they want. Songs with a clear structure and high sing-along ability. And there's nothing wrong with that, because these guys know how to match the level of their past albums and maybe even top it here and there.
Songs like ,,Welcome To The Circus", title track ,,Afterlife", ,,Roll Them Bones" pop out of the speakers with a high energy level and also the softer songs like ,,Times Like These" and ,,The End" know how to strike the right chord and are catchy as hell.
During this year's European festival season Five Finger Death Punch already played new track ,,Welcome To The Circus" and proved it was not only a killer song, but also probably one of the new live favorites of both fans and band. I can tell you that the band has managed to transfer their live energy into the studio recordings. With yet again a great lead role for singer Ivan Moody, who is one out of thousands!! Not only an amazing singer, but also a man who knows how to transfer a message and touch a crowd with his way of entertaining.
A FIVE FINGER DEATH PUNCH APPETIZER
The band has already released 4 songs [,,Afterlife'', ,,IOU'', ,,Welcome To The Circus'' and ,,Times Like These''] from `Afterlife' as an appetizer via the streaming services, so I think fans already know what's coming their way. It may be clear that this band has certainly not reached their peak yet creatively and, in my opinion, it has the potential to continue blasting like crazy for many more years to come.
`Afterlife' turned out to be a strong album that features all the elements that 5FDP has become known for. And for fans this is an absolute no-brainer and purchase mandatory. If you're not familiar with the work of these men, it might be time to get acquainted with their music!!
In any case, this hard-working outfit deserves a chance in your favorite daily music list and I can only recommend to go and see Death Finger Death Punch live, because then all the pieces of the puzzle really come together.
Release date: August 19th, 2022