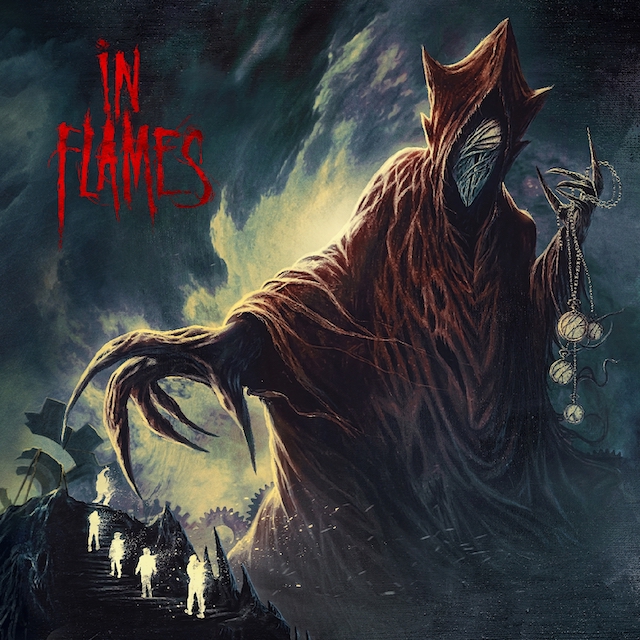 Review | In Flames – Foregone
Nuclear Blast Records
Hailed with trumpets a new In Flames album always raises hope for the heaviest melodic of all metals. Like cast iron, yet unable to crack, the band piles classics. From their heaviest debuting days with `Lunar Strain' up 'til their melodic flourish of `I the Mask', the band never seizes to amaze. True, they have strayed from the strain, leaving behind the brutal scene and a lot of their fans, but it is needless to say the band has always been breaking boundaries to explore the sonic abilities of the expanding metal-universe. The table of elements at their disposal, the band has pushed forward and now seems to grip back to their beloved death metal roots.
IN FLAMES BENCHMARK
Expecting the announced return to form, I am baffled by the dabbling acoustic opener ,,The Beginning of all Things that will End". Celtic instrumentation and warm soothing melody lead in before I am blasted into my chair backwards. Indeed, In Flames return to their debuting days with Tanner Wayne's trademark galloping drums and Gelotte's jagged riffs pushing Anders Fríden back to his grunt and growl vocals. Reminiscent to their `The Jester's Race', In Flames fuse their impeccable melodic feel to driven fury. Benchmark for the genre the front runners of the Melo Death scene reclaim their throne with dominance.
In Flames would never be who they are today if it wasn't for their stubborn attitude of washing down melodic dominated riffs into blunt streams of thick deadly potions of death metal. Clean and crisp are towering melodies and choruses contrasting deeply with flooding raw riffs, double bass blasts and galloping drum cadence. Anger bursts and radiates to kick up the dirt that unexpectedly settles with the inapt slick melodies dropping. It is what set them apart from many, made them the icons they are.
A NECKBREAKING FORCE
The In Flames ingredients are constantly shaken up and served with thrive. ,,State of Slow Decay" packs all and injects you with doses of sentiment while ,,Meet Your Maker" and ,,Bleeding Out" put the 'heavy' in metal leaning strongly on its power-laden groove with melodic whirling choruses and licks. 
Just check out the name giver ,,Foregone, Pt. 1" and you hear their neckbreaking force and groove-laden track harshly flourish with only a stunning guitar solo full of emotive melodic discharge. The song warps their acclaimed ,,Colony" days back to the front while ,,Foregone, Pt. 2" does the exact opposite, fusing their most melodic accolades to Björn Gelotte and ex-Megadeth's Chris Broderick multiverse of guitar riffs, licks, melodies and welling solos spawning their `I, the Mask' laurels. The latter applies to ,,The Great Deceiver" and ,,The Dark" also causing a 'rift' of styles between the first and 2nd half of ,,Foregone" in its entire. 
MELODY-PACKED EXTRAVAGANCE
Highly melodic is the alt-melody of ,,A Dialogue in B-flat Minor" (and ,,End of Transmission") highlighting the band's feel for melody-packed extravagance and raw Nu-breed vocal deliveries all gelling well. It is admirable how they manage to twist this into form, creating format for future endeavour. To me this endured on the heavy grooving ,,Cynosure" with its rhythmic patterns deepening the track's front of house sound amidst Bryce Paul's spot lit bass extrusion. Almost jazzy the song develops around a wonderful melody that outdoes anything they previously recorded. Another throw off perhaps, but one I had to grow acquainted in order to adept and adopt.
,,Foregone" indeed returns the band to its raw and pure form without missing the captivating ingredients so well developed over the last decade(s). Fríden roars loud and wild, grunts like a madman, but also stuns with his cleanest register ever belted. Atop the musical mayhem of death riffs and drums, their melodies strike deep and with the addition of Broderick, Gelotte also develops a varied offload pushing the guitar interplay and bringing jawdropping solos and melodies to the front. Though disputed and controversial as always, fans of the old and new can listen in and (re)discover a lot of favored ingredients, as In Flames channels all that makes them who they are… and have been.
Release date: 10 February 2023