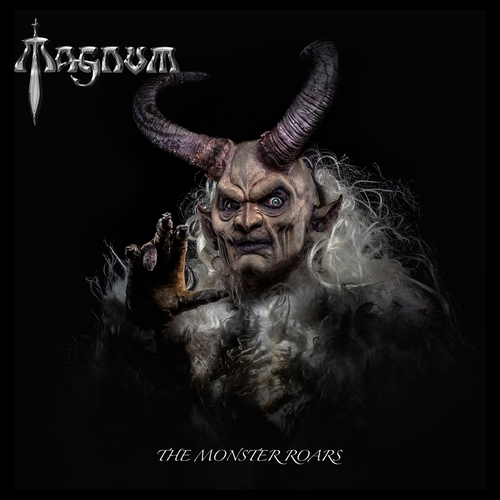 Review | Magnum – The Monster Roars
Steamhammer/SPV
In 2022 the UK progressive melodic rock formation Magnum will celebrate an existence of no less than 50 years. Starting out in 1972 in the town of Birmingham guitarist producer Tony Clarkin and vocalist Bob Catley have always been the steady factors. With 'The Monster Roars' the duo presents another new chapter in the rich history of a band that never made the big-time status but that has gathered a loyal following of fans throughout the years.
BUSINESS AS USUAL
Although also Magnum have been hit by the Covid-19 crisis limiting the amounts of gigs drastically for Clarkin and Catley it is business as usual. Together with the current members Dennis Ward (bass), Rick Benton (keyboards) and drummer Lee Morris the veteran duo has established a strong and hopefully lasting line-up that came together when they recorded predecessor 'The Serpent Rings' in 2020. In between these recordings in 2021 Magnum came up with a sort of a compilation album called 'Dance Of The Black Tattoo' that contained live-recordings, studio leftovers and some remixes, most likely released to keep the name out there as live-performances were severely diminished.
SECOND FIDDLE
On 'The Monster Roars' Magnum has not really come up with new boundaries to their sound or style and why should they? Clarkin (as sole song writer and producer) has carved out a very specific and very recognisable sound that is marked by the voice of Catley. When he starts to sing you know straight away who you are dealing with. Magnum (as always) sounds majestic with a sound that is large and full of playful themes. Especially Rick Benton with his keys has (as he had on 'The Serpent Rings') quite a prominent position in the total picture, colouring in the proceedings and adding some extra dimension and accents. It is not that Clarkin with his guitar is playing second fiddle, he is there but at stages maybe not as 'demanding' or 'in your face' as in earlier days. It has worked out well for 'The Monster Roars'.
UP-TEMPO
The only thing that I miss are some real up-tempo songs. Only ,,That Freedom Word'', ,,Your Blood Is Violence'' (at stages), ,,No Steppin' Stones'' and ,,The Day After The Night Before'' are tracks where Magnum steps on the gas pedal a bit more. Most of the songs are mid-tempo, quite moody at times but they all have a rich and overwhelming sound. But a bit more 'upbeat' stuff would have made 'The Monster Roars' a better-balanced album. But on the other hand… what am I complaining about?
Yet again this is a Magnum-album that is a real gem with its big sound and immaculate individual performances plus compositions with a head and a tail. Okay, it is a traditional one and I can imagine that people might react in the sense that there is nothing new here, nothing that we have not heard before by this band. That might be so perhaps but the fact remains that also in 2022 Magnum stands for quality and an established, and above all 'their own', sound. That has got to be worth something or not?
Release date: 14 January 2022