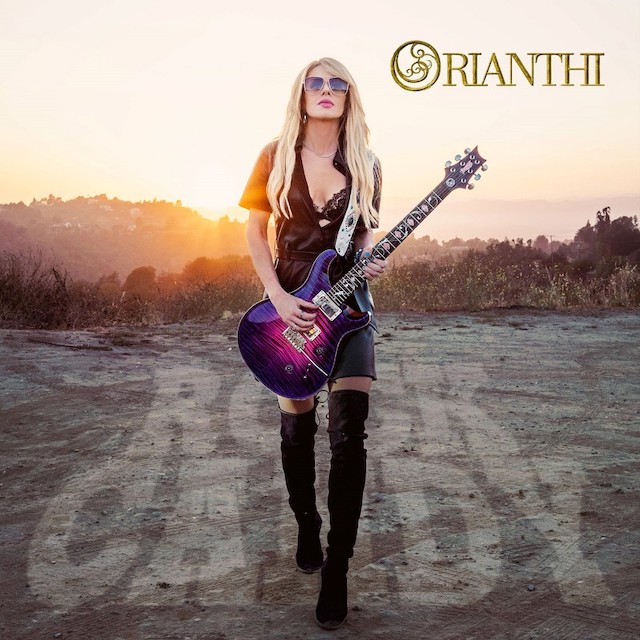 Review | Orianthi – Rock Candy
Frontiers Records s.r.l.
Transitioning her music across the decades and landing with the current Gen Z generation, Orianthi recently saw her star rise again following a TikTok frenzy of ,,According To You" generating no less than a bedazzling 83 million hits! Though the Aussie guitar Goddess never really was out of the picture, a new generation was introduced to her. Thank God, they get exposed to real music….
Thus, Orianthi reports back with new music at exactly the right time, dropping `Rock Candy' on the masses. 2020's `O' was the first sign of life after a 7-year absence, putting her back on many fans and rocker's scope. Time, she didn't want to see pass for this superb follow up.
CONFIDENCE
The album cover displays Ori parading, head held high, from a sunrise into the future. High boots, leather short dress revealing cleavage and lingerie, this power woman confidently dresses to impress. Radiant in purple-pink sunburn PRS guitar strapped on, from behind her purple shades, she looks more confident than ever. Miss Panagaris displays that same confidence on `Rock Candy'.
Opening and closing with the short ethereal eluding guitar instrumentals ,,Illuminate" subtitled ,,Part I" and ,,Part II", Orianthi displays her impressive skills, with the latter opening all Vai-esque registers handy. Impressive phrasing, stretched notes and vibrant picking, Orianthi strums in the very best shred tradition, without losing focus of its front and end. Thematically strong, the song unites her impressive skills with her Mediterranean (Greek-tinged) musical roots, as the song fades out. In between these two short tracks however, Orianthi does what she does best: Rock out!
A LOT OF EMOTION
There's a sincere power strut in the parading ,,Light it Up", fusing the track with the cover art. Rousing vocals, parading jabbing riff, it fuels the `Rock Candy' fire. The groove shuffles heavy with drums in hammering, creating great dynamic circumstances for its feelgood vibe. Orianthi laying down her catchy vocals with a bit of scratch and bite, revealing heartfelt emotion. Emotion she also unloads in the solo that is rocking fiercely, without lacking a bluesy note. Emotion which also returns on the heartfelt ,,Where Did Your Heart Go", unloading agony in the outcalling chorus, while bluesy guitar licks whale and the solo towers with pain. It is persisted on the wonderful ,,Living Is Like Dying Without You" that would not have been out of place on the RSO album as one can easily imagine it as a rich toned duet between Orianthi versatile vocals and Richie's raspy deep voice.
Low end bass drones ,,Void" into motion. Slow paced, ominous progressing, Orianthi matches the mood vocally before going all industrial with distorted vocals and wailing guitar combusting.
THE HEART AND SOUL OF REAL ROCK AND BLUES
Picking tastefully, she delves into the oozing ,,Fire Together". Grunting bass line, rock steady drum beat, it borders with pop without maxing out on the rock attitude of the track. Melodic powerful, it strikes with memorable hooks dropping the chorus. Hit potential 110%. Pink! power in Orianthi's world. That typical sonic sound palette is delved into on ,,Burning" with its modern fresh rocking vocals and chorus. Drum rolls power up towards the guitar's raw strum. ,,Getting to ME" lays down a ponderous beat over the bluesy classic rock guitarwork. Heavy rocking, welling keys and pitching guitar licks drop it like a bomb towards the mega melodic chorus. Towering hook and harmony, it again displays insane hit potential without losing the heart and soul of real rock and blues.
The foot goes down on the loud rocking ,,Red Light" unleashing some hammering Foo grid and turmoil before powering up for the melodic overhaul in its chorus. Equally heavy is the roaring dark ,,Witches & the Devil". Not high paced, but dark and growling in its doom, the soon features a different side of Orianthi experimenting with tons of reverb and screeching and scattering echoes.
MANY MEMORABLE MOMENTS
`Rock Candy' is exactly what its title suggests: a piece of candy for rockers. Uniting Orianthi's feeling for classic rock and bluesy notes with prolific anthemic song structures, she delivers a potion that swings and rocks like crazy. Exploring a wide array of styles, the Aussie thunder rocker doesn't shy away from experiments, while frequently touching the emotional vein also. The outcome is an album bold as brass, with many memorable moments and insane guitar delivery, serving the tone of the songs. Power chords delivered in large chops, and her soloing is stellar.
Treat yourself some Rock Candy folks!
Release date: 14 October 2022