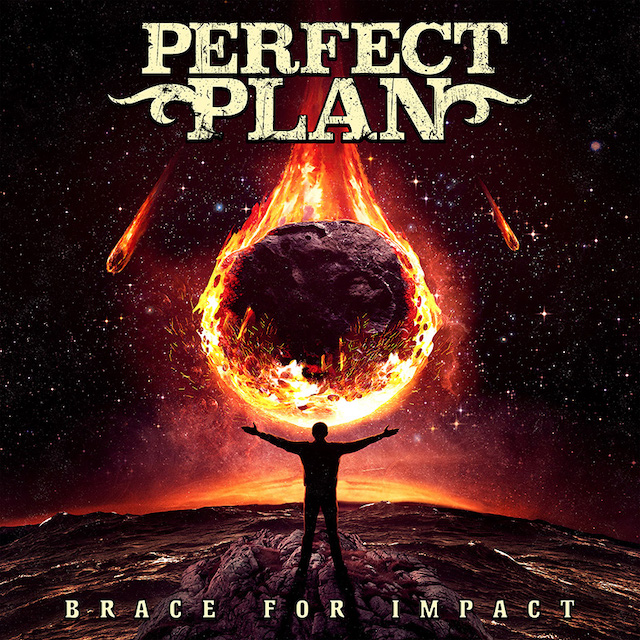 Review | Perfect Plan – Brace For Impact
Frontiers Music srl
The Swedish melodic rockers of Perfect Plan have surely made an impact since 2018 when they released their debut entitled 'All Rise' and followed that up with 'Time For A Miracle'. They sounded fresh, melodic, combining heavy rock with sensitive AOR. During the pandemic the band released the live record 'Live At Sharpener's House'. Singer Kent Hilli really jumped out and record company Frontiers had him make a solo-record ('The Rumble') and paired him up with the US rockers of Giant (the album 'Shifting Time', released earlier in 2022, while Hilli also appeared as guest on some other Frontiers related releases.) I remember writing that Hilli might be on the same route as Ronnie Romero, appearing on a lot of releases in a short period of time and what that might mean for the future of Perfect Plan.
MISPLACED
That fear might have been misplaced as Kent Hilli assured that Perfect Plan was still a main focus for him and the fact that the third studio-album of the band is ready to be released, confirms that statement. If you expect a logical continuation of 'All Rise' and 'Time For A Miracle', well, you are partly right. The band has continued their style but have shown growth in several areas. First of all, the overall sound of 'Brace For Impact' is more compact, more to the point and slightly heavier. The songs have more balls, are still melodic, but are harder edged without Perfect Plan losing any of its melodic features.
STRAIGHT FORWARD
'Brace For Impact' is more a heavy rock album, with a faster tempo, a bit more groove, even a bluesy touch and more variation. There is only one ballad present (,,My Angel'') while songs like the fast paced ,,Bring Me A Doctor'' and the powerful stomper ,,Still Undefeated'' reveal a band that is harder rocking in comparison with the first two albums. There are still plenty of elements there that prove that Perfect Plan has not changed too much and that connects the current albums with its two older musical brothers (or sisters, whatever you prefer).
But is it good to find that Perfect Plan is not afraid of development and a slight change of course, without offending fans of the first albums. That is the trademark of a great band. A little change here and there but still connecting with their early days. It is a route that the UK band Vega has gone before and not without success. I think that Perfect Plan has done a top job with their third record. Progress, a slight change of pace and approach but without ever losing their musical identity that was built up with 'All Rise' and 'Time For A Miracle'. That is what they call development done with grace and in style.
Release date: 14 October 2022