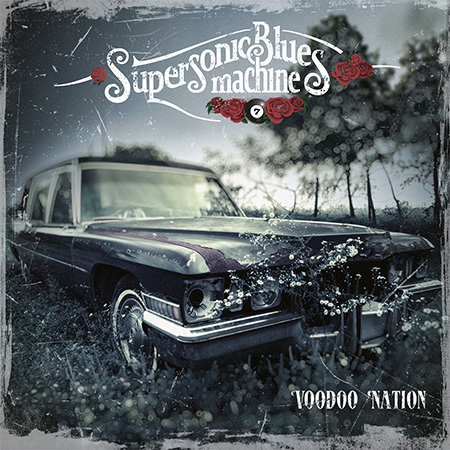 Review | Supersonic Blues Machine – Voodoo Nation
Provogue Records / MLG
Don't let the term blues in the band name fool you. Fabrizio Grossi (bass/production), veteran drummer Kenny Aronoff and the latest recruit UK singer/guitarist Kris Barras have so much more to offer on the band's third studio-album (the first with Barras though who made his debut for the band on the 2019 live registration 'Road Chronicles Live!'). 'Voodoo Nation' is without a doubt the most versatile record in the career of Supersonic Blues Machine so far stretching from blues, rock, a touch of soul to also some psychedelic features, but always rocking steady.
TRADITION OF SUPER SONIC BLUES MACHINE
It has become a real tradition in the history of Supersonic Blues Machine to have a bunch of musical guests on their albums. In the past people like Walter Trout, Billy Gibbons, Warren Haynes and Jonny Lang (just to name a few) helped the band out and on this album, things have not changed as a guitar ace like Sonny Landreth, Ana Popovic, Eric Gales, King Solomon Hicks, Josh Smith, Joe Louis Walker, Blackberry Smoke ace Charlie Starr and harmonica player Chris Hansen showcase their talents on an album that counts twelve tracks clocking just over an hour. And it is an intriguing hour of music if you ask me.
DEEP THOUGHTS IN THE LYRICS
Fabrizio Grossi, who is the main songwriter together with Kris Barras has gone deep in his lyrical content. You can even say that the man sometimes paints a dark picture of the world we live in started out with the first track ,,Money'' (the current single), a song that deals with greed being showcased by humanity in general. Sonny Landreth steals the show on the track ,,8 Ball Lucy'' with some scorching slide-guitar antics, while ,,Devil At The Doorstep'' featuring Eric Gales stretches out to close to eight minutes with Barras and Gales living it up. On ,,I Will Let Go'' and ,,Is It All' Supersonic Blues Machine sound a lot more 'melodic' and 'sophisticated', but both songs are really cool.
The only song that I can't get into is ,,All Our Love'' with Charlie Starr as it is too country flavoured for me, but then for one reason or another I never ever fell in love with Blackberry Smoke. But for the rest 'Voodoo Nation' is a damn fine album where elements of blues, roots rock, heavy rock and soul mingle together in a fine and entertaining manner. If you are familiar with the first two studio releases, I think that also 'Voodoo Nation' will be to your liking. This band has matured nicely since they started out in 2015.
Release date: June 24, 2022