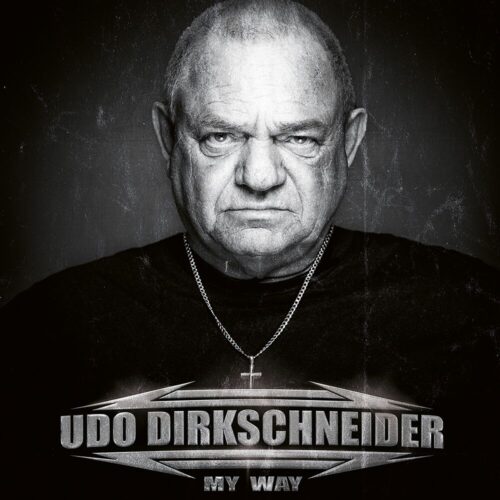 Review | Udo Dirkschneider – My Way
Atomic Fire Records
If you ever want to meet a rock star that always had both feet on the ground, Udo Dirkschneider is the man you want to meet. The singer who was the inspirator for the bands Accept and U.D.O. celebrated his 70th birthday earlier this year and he is still going strong. It was time for Udo to look back at his rich career. The best way he saw fit to do that was to go back to the songs that inspired him throughout the years. A seventeen-song cover album with songs from (mainly) the sixties, seventies and the eighties, tracks that became personal favourites.
UDO STYLE
We all know that Udo has a very specific voice and he always stood firm for a portion of unrelentless metal. 'My Way' is done in the typical Udo style. He has put his personal touch on the songs. Whether it is a version of Queen's ,,We Will Rock You'', ,,Motörhead's ,,No Class'', Zeps ,,Rock And Roll'' or even ,,They Call It Nutbush'' from Ike and Tina Turner. Together with his son Sven on drums and former Accept mates Peter Baltes (bass) and Stefan Kaufmann (guitars/production) plus a bunch of other metal merchants der Udo kicks ass. There is no letting up on this record, it is full steam ahead!
SONG CHOICE
Several song choices are very personal and might be a bit surprising as well. Songs from Frankie Miller (,,Jealousy''), Billy Squier (,,The Stroke'') and Sensational Alex Harvey Band (,,Faith Healer'') are for me pleasant re-discovery tracks that I haven't heard myself for years and Udo brings them alive again. He pays tribute to Judas Priest, The Sweet, Rainbow, AC/DC, The Rolling Stones and Uriah Heep while there is even a song in his native German language, a cover of ,,Kein Zurück'' by the band Wolfsheim. And what to think of ,,Fire'', a 1968 song by Arthur Brown, one of my first encounters with heavy music.
LINER NOTES
Udo himself wrote the liner notes, talking about how Accept came about and basically describing his career in music which started some 56 years ago (!) He has added a photo collage with even some baby shots from his private archives. It has been a great journey for Udo. He has worked hard and maybe people think that now he has reached the tender age of 70 he might take things slower. I personally do not believe that. There is more juice in his tank and we will hear from him again. As always he has done things ,,My Way'', the closer of the album, a song made famous by Frank Sinatra, but also a track that describes the career of this man to a T. All in all, a job well done by Udo and his musicians and a very touching record indeed.