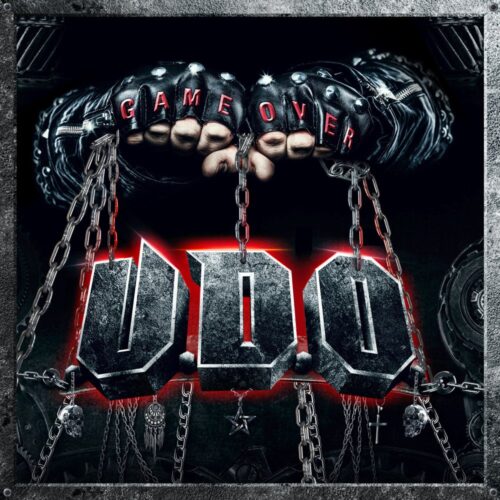 Review | U.D.O.-Game Over
AFM Records
HARD AND HEAVY
German singer Udo Dirkschneider is probably one of the hardest working artists in the music business. After 'We Are One' (2020), 'Live In Bulgaria 2020, Pandemic Survival Show' (2021), the recent Dirkschneider & The Old Gang 'Arising', we now also have a new studio record by U.D.O., the band (scheduled for October 22, 2021). So there's nothing wrong with his work ethics. But what can we expect from this new 'Game Over' release?
Well, mostly an album with all the ingredients we know from Mr. Dirkschneider and co. The ingredients that so many people love about the band. Is it all innovative? No of course not, but let's not forget that nobody really wants that either. When I put on a U.D.O. album I expect a portion of wonderfully pounding, grooving, fat hard and heavy music. Nothing more and nothing less than that! And that is exactly what we get on this new album.
THE NEW ALBUM
The first part of the album contains some potentially classic U.D.O. pieces. ,,Fear Detector", ,,Holy Invaders", ,,Metal Never Dies" can be incorporated seamlessly into the live set of the band. But in all fairness I must say that I do not think a ballad like ,,Don't Wanna Say Goodbye" is one of the strongest songs on the album. The Digipak contains no less than 16 new songs and although I appreciate his drive enormously, I think 16 is a bit too much and I find it quite difficult to listen to the complete album at once.
Once again Udo shares his concerns about the current state of our world in a song like title track ,,Game Over" or expresses his concerns about the growing numbers of child soldiers in ,,Kids And Guns".
UDO IS UNSTOPPABLE
Fact is that U.D.O. has delivered another great heavy rock record with 'Game Over'. And to be fair, there are few other artists of his caliber who manage to deliver 4 quality records in 2 years time. For that alone, I can't help but have deep respect for this man and his band.
I have no idea where he gets his energy from, because the band's upcoming tour plans have dates in Russia, Europe and South America.
No more excuses, go and enjoy a guaranteed great night of hard and heavy music.