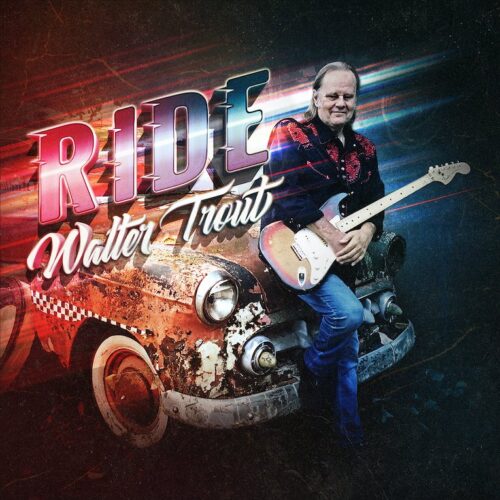 Review | Walter Trout – Ride
Provogue Records / MLG
Walter Trout started his solo-career in 1989 (after quite a spell with John Mayall and the Blues Breakers) with the stellar album 'Life In The Jungle'. I remember walking into a record shop in the beautiful city of The Hague in The Netherlands when I heard the album playing in the background. I did not leave that shop without having bought a copy and I have been following the man's career since then, making sure that when he was in The Netherlands that I would visit a concert. That was a long time ago. But all these years I have been buying all his releases and if I am not mistaken 'Ride' is album number 30 (including live-albums).
About eight years ago Walter had an enormous health scare and he had a liver transplant that almost cost him his life. For months he was out of action, he had lost his capability to speak and walk. After a long rehabilitation he slowly but surely managed to get better and after months and months of practicing he found his voice (including his 'rasp') again and his guitar playing was once again fully restored. The 2015 album 'Battle Scars' was his most personal piece of work ever, describing his battles and fears.
FULL SWING
Ever since 'Battle Scars' Walter has been in full swing again releasing a couple of new studio-albums since then ('Survivor Blues' and 'Ordinary Madness') and in between Covid lockdowns touring wherever and whenever possible. On his latest record the 71-year old Trout is in fine form again, delivering an inspired and extremely solid album that has his typical ingredients like his howling guitar, his melancholic and sometimes heartbreaking ballads and his robust blues rockers. It is not that Walter is doing anything new on 'Ride' (although the title track has a slight poppy character). The swing, the beat and the swagger that this man has just makes you feel fine and comfortable when songs such as ,,Hey Mama'', ,,I Worry Too Much'', ,,Ghosts'' or ,,So Many Sad Goodbyes'' make an impression of your mind and soul.
PRIVILEGED
It is difficult to describe but one way or another this man has 'got the touch', the capability to reach your heart and soul throughout his music especially when he turn things up on a song like ,,High & Dry'' or when his melancholy character shines through in the ballad ,,Waiting For The Dawn'' with ultra-sensitive howling guitar parts that only Walter Trout can produce it seems. As usual Walter Trout does not disappoint! Since 1989 (and long before that) a lot of things have happened in his life but his music has always been his saviour, his beaming light and we can feel privileged to have been along for the journey. 'Ride' on Mister Trout.
Release date: 19 August 2022