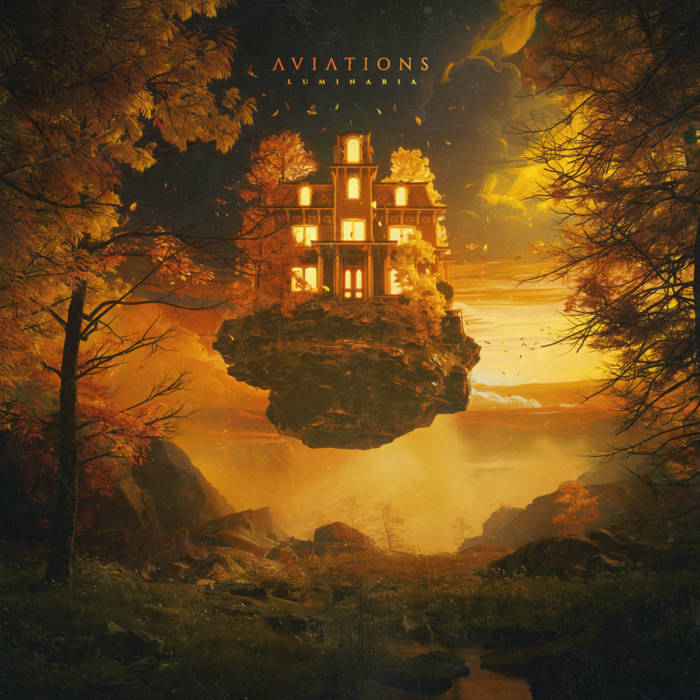 Review | Aviations – Luminary
Independent
2023 goes down in history as a year especially sprouting ominous, often conceptual, albums zooming in on the present, scoping the state of the world following the pandemic, mankind and society, and generating social critical views on humanity. It's the concept genre generically tied to progressive rock launching new offspring orbiting immediately. Orion, The Mystical Hot Chocolate Endeavors, Oblivion Protocol and Hemina put a time stamp on this year. Aviations wanders the meandering world of progressive metal since their 2012 debut recorded as students at Berklee College of Music, and follow up `The Light Years' pushed the envelope. `Luminaria' is the brand-new album and it outdoes not only its predecessor, but a wide array of memorable progressive rock and metal releases of the last decades.
A BAND ON THE RISE
,,Safehouse" is another exclamation point of a band on the rise. The music is explorational and warm, touching deep with its creativity, underlining every note with musical richness and marksmanship. Touching rich tonality, story induced musical underscores, hard rock and metal, Aviations explores the sonic boundaries of various genres. The artwork is as enchanting as the opening ,,Prelude", adding to the presentation of this grandiose record that comes as a cd and two LP vinyl on burning sky red and gold marble.
Soothing piano and keys over lush string arrangements and acoustic guitars, pitching oozing choir chants and briefly intensifying harsh musical interaction into ,,Cradle", with its intense progressive staccato guitar licks weld onto James Knoerl's insanely dynamic drums. Rich fills and intricate time changes pull forward, with keenly added Emerson-like (`Works' era) jazzy keys bordering with classical piano drizzle. The song is a captivating fusion of classic prog with welling emotional passages breaking the bedlam sections for maximized listening enjoyment. Aviations adds vocal richness atop challenging instrumentation, with singer Adam Benjamin exploiting the musical variation laying down intrinsic performances full of emotion and melody as well as heavy edged singing.
QUEEN
Delving deeper the band maintains its drive and enhances its instrumentational progressions with Djent-like patterns on the YouTube single ,,Safehouse" while the vocals touch with the dramatized Queen choruses and Adam checking in on Mercury's subtle touching register. Versatile as the vocals the music enrols with a feelgood vibes. Towards the end the song combusts with all elements pitched on piles of musical perfection, blending staggering musical marksmanship with top notch melancholic appeal. Hardening out their enthralling musical explorations guitar layers Sam Harchik and Eric Palmer feed off each other's exquisite skills and tonality. Fretboard magic constantly enters Aviations' musical realm, all executed with finesse.
Memorable riffs and hooks are constructed into the songs, tons of intense hooks and licks break free from its form, and the solos are brisk and wonderful. Duelling, both players display insane talent without going all over board. Well, flashing all over the fretboard, but playing in demand of the song's exposure and needs. When they go all in, you get anger laden riff and breaks with Adam screaming in death metal poise.
BASS WORK
Absolutely sick how this band savors the happy feeling of the previous song in the absolute upheaval and tumult of ,,Legend". Astounding and unexpected, with earworm choruses implemented over the drizzling piano. Morphing vocals Mr. Benjamin displays his insane abilities. The song's breakdown is intense, like Dream Theater in their glory… on acid!
Especially interesting is how they woven ,,Safehouse" vibes into the video for the song on YouTube, binding both dismissing its insane contrast. Bass player Werner Erkelens, did I forget to mention him? Well, the man takes the spotlights as much as his 6 (7, 8) string counterparts. Like on the wonderous meandering ,,La Jolla", in which he bridges the gaps between the poly-rhythmic drum progressions, drum rolls and fills, piano and guitars. Subtle low end with keen picking-like chordal licks, growling towards the bridge and chorus, pushing the envelope on the captivating ending. It's impressive how the music, with all its layers and textures, remains transparent and lucent, like on ,,Pinenut" which shifts between ultra-melodic and intricate progressive sections, time stamped with progressive rhythm changes and jazzy chord progressions.
70S MELODIC ROCK
The overall atmosphere is warming like a 70s melodic rock track except Aviations go totally bonkers musically. It mellows into the atmospheric opening of ,,Pure" that slowly transcends with out-of-this-world harmonies and texture, finding its equal in the vocal execution of Benjamin. Oozing grandeur with unpredictable time changes and melodies it prolongs its warming tenure, gradually crafting intensity and commotion. So gripping, it lands deep. ,,Where We've Been" displays the other side of the band's wide sonic spectrum. The piano lines are classical, drizzling with variety and tone, but there's this unparalleled comfortable epic signature atop the modern sound effects and briefly recurring synths pitching the song into its endgame leading into ,,Coma" which endures the classical piano stamp.
Jazzy elemental, the song has guitars entering the surface and bass taking the helm when its musical storytelling narrative starts to build and casts us into an insanely affective chorus and vocal melody. Double bass propels the song into its whirl full of guitar bliss and drum breaks. Adam delves deeper with his anger radiating briefly as the song augments agony and despair. 10 minutes of melodic progressive mayhem, checking all the boxes, only to be topped by the closing ,,Blink" on which Aviations seems to summarize `Luminaria' in its entire.
AVIATIONS – THE CONCLUSION
Pawing deep into the emotional drama of the previous songs as well gutting out the despair and agony with dramatic twists and turns, the band displays a denser rendition of their versatile musical exploration of the album. We even get exposed to a frail moment with Adam belting out his most dramatic vocal line before the band throws in the 'wonder of the world' progressively touching the old firm of Yes, Rush and Kansas without lacking the heaviness of Dream Theater, the dramatic appeal of Soen and even the heavy strut of Toxik's guitar momentum. Mid-section, ,,Blink" is absolutely sick and firing on all engines!
For a second, I thought I reached the endgame of musical times, but Aviations' `Luminaria' proves me wrong. The band fuses every classic style of progressive rock and metal ever recorded, injects a brisk and appealing modernity unmatched, and executes it with insane musical craftsmanship. The outcome is an album that classifies as one of the most experimental I have heard, but at the same time displays an unequalled melodic momentum full of depth and texture. `Luminaria' is certainly on my list of 2023's favourite releases, right next to Soen, Leksi, All My Shadows, Colossal Street Jam, Alice Cooper (for old times' sake), Roxanne, Creye, and Seraina Telli.
Absolutely Smacking!
Now all I need to do is get my hands on the vinyl edition without overpaying on those freaking taxes.
Release date: 1 September 2023