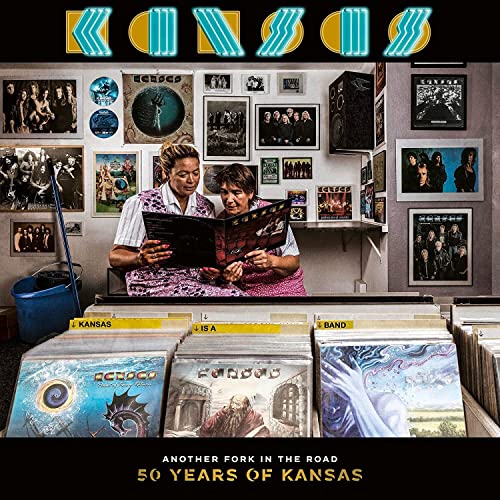 Review | Kansas – Another Fork In The Road – 50 Years Of Kansas
Inside Out Music
Kansas is a progressive/symphonic rock band with a 50-year history and still going strong. It is quite an achievement. Remember when iconic vocalist Steve Walsh announced his retirement some 7 or 8 years ago? It seemed the end was near but original members Phil Ehart (drums) and Richard Williams (guitar) bounced back just like they did in the early eighties when Walsh started the band Streets with guitarist Mike Slamer while original guitarist and main composer Kerry Livgren decided to leave as well sometime later.
RONNIE PLATT
New singer John Elefante (later Mastodon) did a good job for Kansas but the popularity of the band declined while their sound became more poppy until Walsh returned and brought star guitarist Steve Morse (Dixie Dregs and later Deep Purple) and current Kansas bass player Billy Greer with him resulting in an absolute cracker of an album called 'Power', seen as a highlight in the career of the group. And after Walsh retired for good Kansas recruited current singer Ronnie Platt who stepped in the shoes of Walsh as if he had been the singer of the band for years.
HIGHS AND LOWS OF KANSAS
During their career the band had several highs and lows. Especially the time with John Elefante is still being seen as a low, although personally I did like his involvement in Kansas. The band kept playing live, kept releasing records until the year 2000 (several band members got involved with a side-project called Native Window later on) but made a real comeback in 2016 featuring Platt on 'The Prelude Implicit', an album that was another highlight in their career.
50 YEARS KANSAS
In 2023 it will be 50 years ago that Kansas came about. Although the band has released several compilations albums and a compilation box earlier in their career this fresh 3-CD package can be seen as the ultimate thing. Because of licensing-reasons the US and the European version are slightly different, but there can be no doubt that this is the best compilation ever. It starts with a brand-new version of ,,Can I Tell You'', originally featured on the debut-album Kansas (1974) but freshly re-recorded by the current line-up. The order of songs starts with material from the last two studio albums and it goes all the way down to that first album.
ULTIMATE GUIDE
All sixteen studio-albums have been featured while some tracks like their biggest hits ,,Carry On Wayward Son'' and ,,Dust In The Wind'' are live. It might be a bit strange to start the whole adventure with your most recent releases and work your way right down to the beginning, but I find that actually a pretty cool set-up. For a true-blue Kansas fan this 3-CD might hold hardly any surprises perhaps but if you are looking for the perfect overview that describes this long musical journey to a T look no further as 'Another Fork In The Road – 50 Years Of Kansas' is your ultimate guide to heaven.
Release date: 9 December 2022