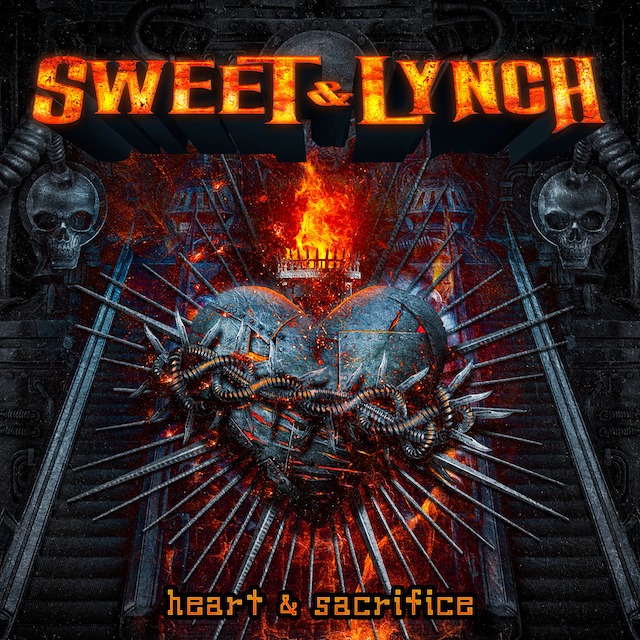 Review | Sweet & Lynch – Heart & Sacrifice
Frontiers Music srl
The last Sweet & Lynch album 'Unified' was released in 2017 and I was a bit disappointed as the album was a carbon copy of the 2015 debut album 'Only To Rise'. Since that time Michael Sweet and George Lynch have been pro-active indeed with some ups and downs. Lynch was impressive with for instance KXM with Korn-drummer Ray Luzier and King's X singer/bass player dUg Pinnick and Dirty Shirley with Dino Jelusick.
Sweet continued with Stryper but was also involved with the so-called super group Iconic in 2022 while in 2021 he teamed up with L.A. Guns boss Tracii Guns for the album 'Evil And Devine' under the banner of Sunbomb. That was a very mediocre album (I am being friendly here) where Sweet was constantly screaming his high-octane vocals at us. The fact of having to hear his high-pitched screams stopped me from seeing Stryper live in concert when they visited Perth in Western Australia not so long ago.
MIRROR
I am sorry to report that on 'Heart & Sacrifice' Michael Sweet yet again thinks it is appropriate to constantly belt out high screams. Obviously, he has plenty of power and energy in his performance but can someone tell him please that you do not have to scream and shout in each and every song. He has proven in the past that he can sing a decent tune so I do not understand why he is on this constant 'power' trip.
Already the first two songs ,,Heart & Sacrifice'' and ,,Where I Have To Go'' are dominated by his high pitched screams and that basically continues throughout the rest of the album that does have some quality to offer as the role of George Lynch is much more positive. We all know that he has this signature guitar sound that he developed during his Dokken years and extracts of that can be heard on 'Heart & Sacrifice' like on ,,Where I Have To Go''.
This is a powerful album indeed with some decent yet not very original sounding songs. If you can make it though the racket that Michael Sweet produces with his voice you deserve my admiration and you might even enjoy the record. But at times this is just too much of the same mister Sweet. Maybe it is time to have a long hard look in the mirror and kiss this project goodbye.
Release date: 19 May 2023